Custom Moisturiser, Cleanser & Serum
Regular price

Sale price

129,00€
Inhaltsstoffe auf Deine Haut individuell angepasst
Präzise Bestimmung des Fett- und Feuchtigkeitsprofils mit Kit
Gezielte Regenerierung und Stärkung der Hautschutzbarriere
Pflegende und sanfte Ölreinigung passend zu Deinem Hauttyp
Serum gegen Hautprobleme auswählen: Rötungen, Akne, Falten, Pigmentflecken
Auf Lager. In 1-3 Werktagen bei Dir.
kostenloser Versand
60 Tage Geld-zurück-Garantie
Pflege hält für 6-8 Wochen bei täglicher Anwendung
Nachbestellung ohne Kosten der Analyse
Details

Regeneration and strengthening of the natural balance
Individually adapted ingredients of the face cream and cleansers
Serum against specific skin problem
Determination of skin needs through objective analysis
Vegan and cruelty free
Freshly produced in Germany

With the Zkin Lab Full Routine Kit you get your personalized face cream 50ml, cleanser 150ml and serum 30ml

With the help of the analysis kit, the face cream and cleanser are tailored to your individual skin values ​​and together ensure an intact skin barrier. The basis for beautiful and healthy skin.

In addition, you will receive one of four problem-specific serums, which you select on the information sheet based on your skin problem. The serum builds on the basis of an intact skin barrier and specifically tackles the respective skin problem. The following serums are available:

Blemishes & Acne

Fold

redness & itching

pigment spots

Included in the price:

✔ Analysis kit with 6 test strips
✔ Return of the test strips
✔ Skin analysis in the laboratory
✔ Measurement results by email
✔ Personalized Face Cream, Cleanser
✔ Problem specific serum
So funktioniert's

Probenahme mit Analyse-Streifen zu Hause durchführen
Vorfrankierter Karton mit Analyse-Streifen in Briefkasten einwerfen
Personalisierte Gesichtscreme nach 7 bis 10 Werktagen per Post erhalten
Inhaltsstoffe

Wir verwenden körpereigene, natürliche, und vegane Inhaltstoffe.

Je nach Hautmessung variieren die Konzentrationen der Inhaltsstoffe und einzelne Inhaltsstoffe können auch entfallen. Die genaue Zusammensetzung mitgelieferten Beipackzettel.

Inhaltstoffe der Creme:

Aqua, Caprylic/Capric Triglyceride, Prunus Amygdalus Dulcis Oil, Glycerin, Simmondsia chinensis oil, Cetyl Alcohol, Glyceryl Stearate Citrate, Alcohol, Sucrose Stearate, Sodium Hyaluronate, 1,2-Hexanediol, Caprylyl Glycol, Sodium hydroxide, Sodium Lactate, Aloe Barbadensis Gel, all-rac-a-Tocopherolacetat, Xanthan Gum, Parfum (optional), Sodium Levulinate, Citric Acid, Sodium Anisate, Tocopherol, Tropolone, Potassium Sorbate, Sodium Benzoate, Diethylhexyl Carbonate, Decyl Oleate, Propylene Glycol, Glyceryl Stearate, Cetearyl Alcohol, Tocopheryl acetate, Acrylates/C10-30 Alkyl, Acrylate Crosspolymer, Sodium Hydroxide, Disodium EDTA, Hydrogenated Palm, Glycerides Citrate

Inhaltsstoffe des Cleanser:

Ricinus Communis Seed Oil, Simmondsia Chinensis Seed Oil, Dicaprylyl Ether, Olea Europaea (Olive) Fruit Oil, Caprylic/Capric Triglyceride, Polyglyceryl-4 Caprate, Polyglyceryl-2 Sesquioleate, Argan Oil Polyglyceryl-6 Esters, Tocopherol, Magnolia Officinalis Bark Extract, Stearyl Glycyrrhetinate, Helianthus Annuus Seed Oil

Inhaltsstoffe der Seren:

Serum - Falten:

Water, Sodium Hyaluronate, Ectoin, Aloe Vera Barbadensis Leaf Extract, Xanthan Gum, Copernicia Cerifera Cera, Retinol, Lactic Acid/ Glycolic Acid Copolymer, Chlorella Vulgaris Extract, Sorbitan Caprylate, Sorbitol, Palmitoyl Tetrapeptide-50, Heptapeptide-15 Palmitate, Copper Palmitoyl Heptapeptide-14, Glycerin, Propanediol, Palmitoyl Hexapeptide-52, Polyvinyl Alcohol, Helianthus Annuus Seed Oil, Glutathione, Palmitoyl Heptapeptide-18, Capryloyl/Caproyl Methyl Glucamide, Tocopherol, 1,2-Hexanediol, Lactic Acid, Ascorbic Acid, Caprylyl Glycol, Sodium Cocoamphoacetat, Potassium Sorbate, Gold

Serum - Rötungen & Juckreiz:

Water, Propanediol, Azelaic Acid, Niacinamide, Tranexamic Acid, Glycerin, Butylene Glycol, Sodium Hydroxide, Decyl Glucoside, Dimethyl Sulfone, Isostearyl Alcohol, Sodium Hyaluronate, Boswellia Serrata Gum, Panthenol, Caprylic / Capric Triglyceride, Sorbitol, Aloe Barbadensis Leaf Extract, Xanthan Gum, Dipotassium Glycyrrhizate, Ruscus Aculeatus Root Extract, Curcuma Longa (Turmeric) Root Extract, Escin, Calendula Officinalis Flower Extract, Tetrasodium Glutamate Diacetate, Ascorbic Acid, Ammonium Glycyrrhizate, Phosphatidylcholine, Pinus Pinaster Bark Extract, Eicosapentaenoic Acid, Docosahexaenoic Acid, Centella Asiatica Extract, Phytosphingosine, Hydrolyzed Yeast Protein, Glutathione, Tocopheryl Acetate, Sorbitan Caprylate, 1,2-Hexanediol, Caprylyl Glycol, Sodium Citrate, Capryloyl/Caproyl Methyl Glucamide, Potassium Sorbate, Tocopherol, Helianthus Annuus Seed Oil, Ethylhexylglycerin, Gold

Serum - Unreinheiten & Akne:

Water, Propanediol, Glycerin, Niacinamide, Azelaic Acid, Tranexamic Acid, Sodium Hydroxide, Dimethylsulfone, Panthenol, Usnea Barbata (lichen) Extract, Zinc PCA, Sodium Hyaluronate, Ascorbic Acid, Copernicia Cerifera Cera, Retinol, Ectoin, Allantoin, Aloe Barbadensis Leaf Extract, 1,2-Hexanediol, Caprylyl Glycol, Ferulic Acid, Xanthan Gum, Tocopherol, Glutathione, Sorbitol, Cucumis Sativus Fruit Extract, Sorbitan Caprylate, Capryloyl / Caproyl Methyl Glucamide, Chlorella Vulgaris Extract, Salix Alba Bark Extract, Phenoxyethanol, Potassium Sorbate, Gold, Lactic Acid, Helianthus annuus Seed Oil, Sodium Cocoamphoacetat

Serum - Pigmentflecken:

Water, Propanediol, Niacinamide, Azealic Acid, Glycerin, Tranexamic Acid, Acetyl Glucosamine Sodium Hydroxide, Alcohol, 4-Butylresorcinol, Dipotassium Glycyrrhizate, Sodium Cocoamphoacetate, Sodium Hyaluronate, Aloe Barbadensis Leaf Extract, Xanthan Gum, Copernicia Cerifera Cera, Palmitoyl SH-Octapeptide-24 Amide, Retinol, Sorbitol, Tocopherol, Sodium Hyaluronate, Linolenic Acid, Lactic Acid / Glycolic Acid Copolymer, Sorbitan Caprylate, Capryloyl / Caproyl Methyl Glucamide, Ascorbic Acid, Palmitoyl SH-Tripeptide-5 Norisoleucyl SH-Nonapeptide-1, Glutathione, Caprylyl Glycol, 1,2-Hexanediol, Potassium Sorbate, Gold, Polyvinyl Alcohol, Helianthus Annuus Seed Oil
Anwendung

Anwendung der Creme:

Jeden Morgen und Abend nach der Gesichtsreinigung anwenden: Benutze in etwa eine haselnussgroße Portion Creme, die du dir auf dein Kinn tupfst. Verteile sie von dort aus auf beide Wangen und massiere sie in kreisenden Bewegungen klopfend ein. Trage etwas Creme auf die Nasenwurzel auf und verteile sie von dort über die Augen.

Anwendung des Cleansers:

Öl in der Hand verteilen und anwärmen
Gründlich ins Gesicht einmassieren und 1–2 min einwirken lassen
Waschlappen/Tuch mit angenehm heißem Wasser befeuchten & aufs Gesicht legen
Öl abwischen, nicht rubbeln: Vorgang 3 und 4 wiederholen (ca. 3- bis 4-mal), um Öl komplett zu entfernen
Gesicht mit kaltem Wasser abwaschen

Tipps:
Das Öl immer gründlich entfernen!
Für längere Haltbarkeit clean & care oil dunkel und kühl lagern.
Reinigung Abends durchführen, Morgens genügt Wasser vollkommen
Nebenwirkungen

Unter Umständen kann beim erstmaligen Auftragen der Creme ein Spannungsgefühl entstehen. Es besteht jedoch keinen Grund zur Sorge: Deine Haut muss sich kurzzeitig an die neuen Inhaltsstoffe gewöhnen. Wenn das Gefühl unangenehm wird oder mit weiteren Beschwerden einhergehen sollte, suche bitte eine*n Ärzt*in auf.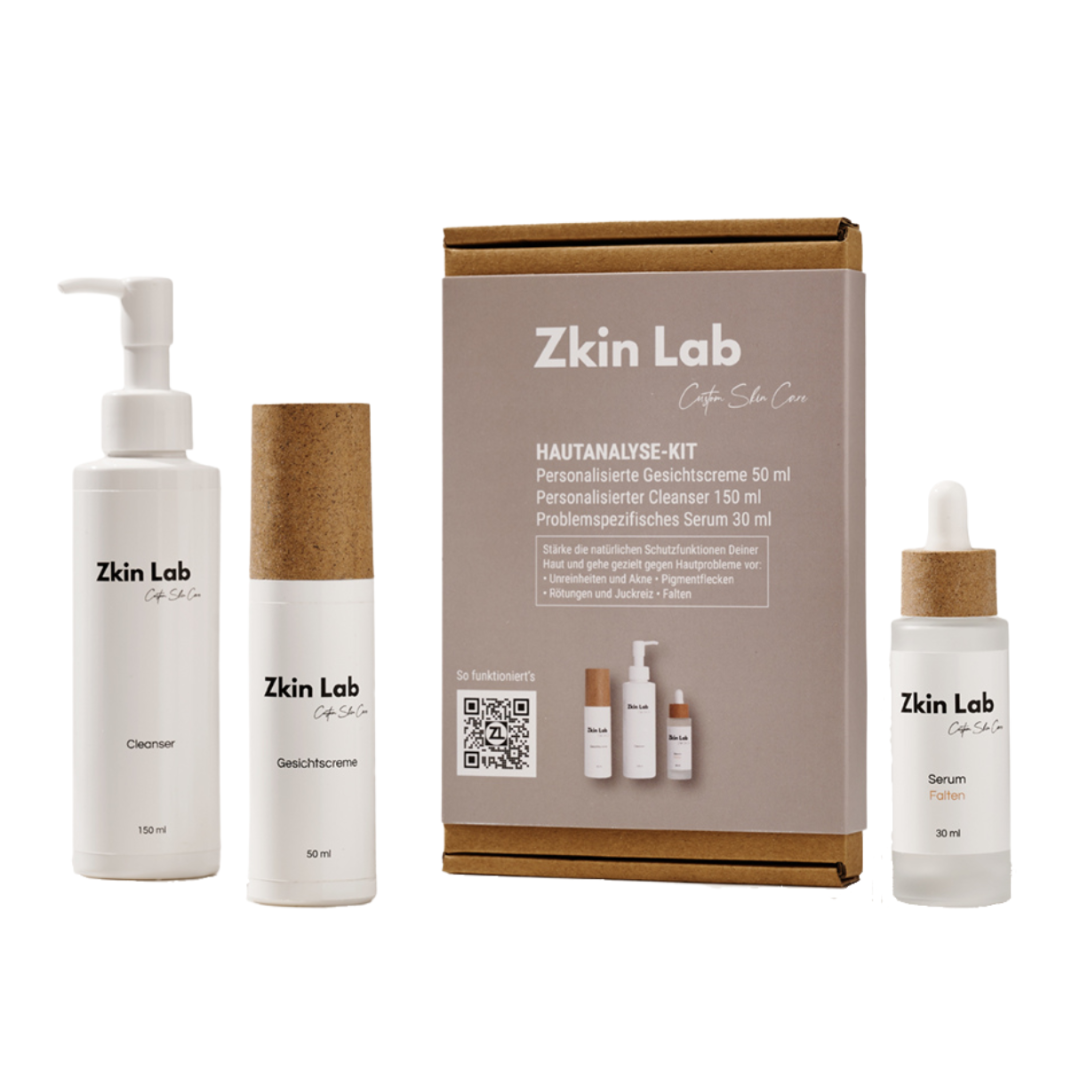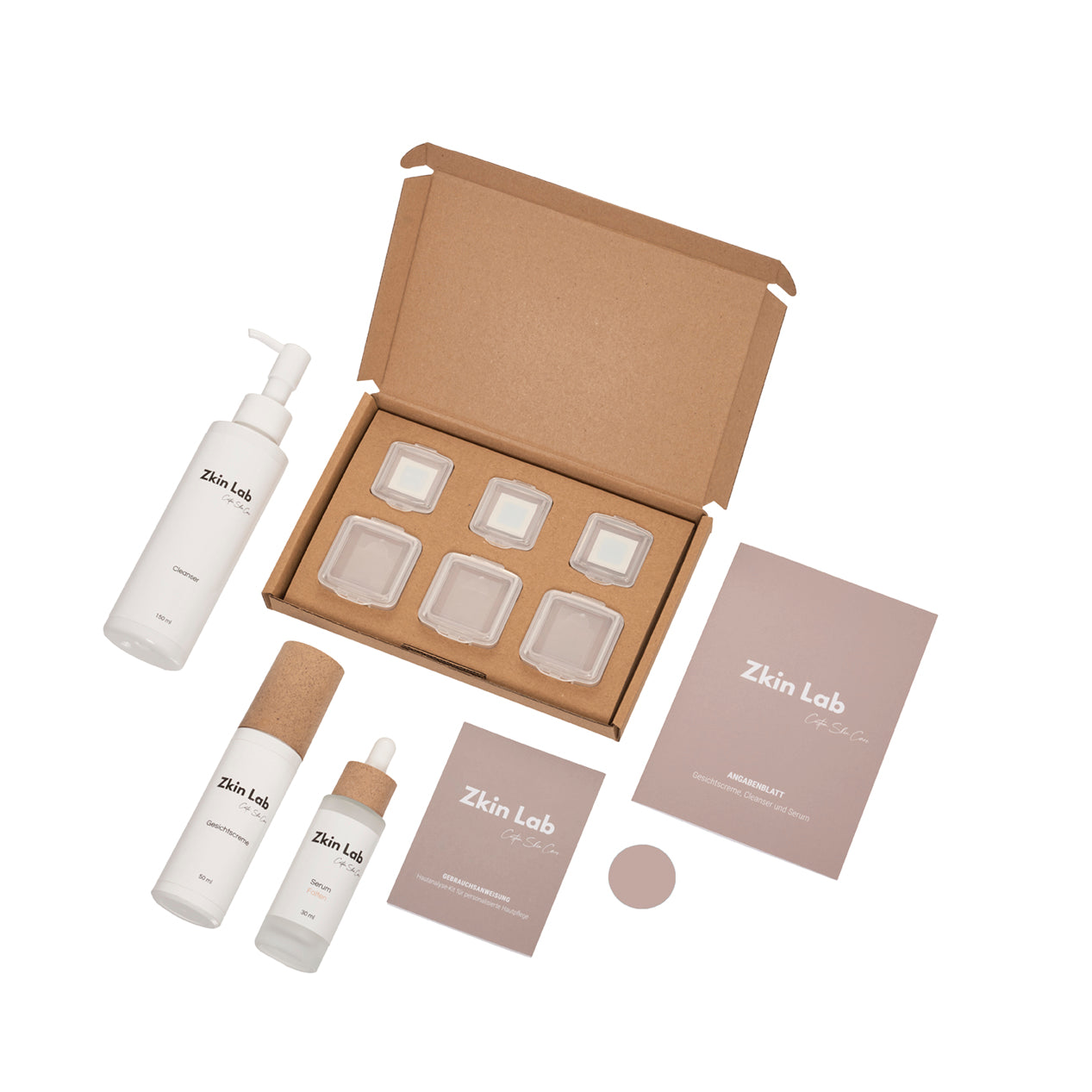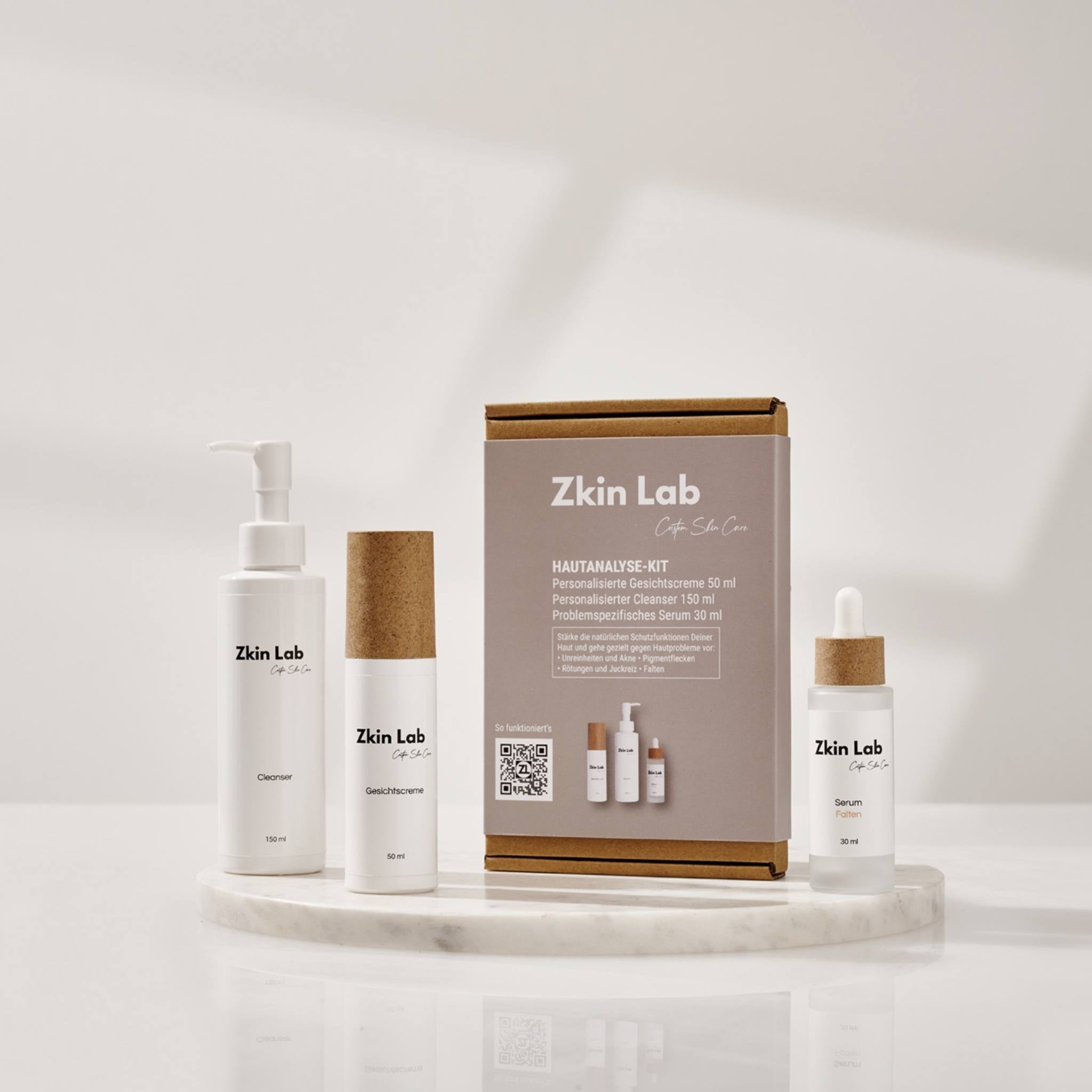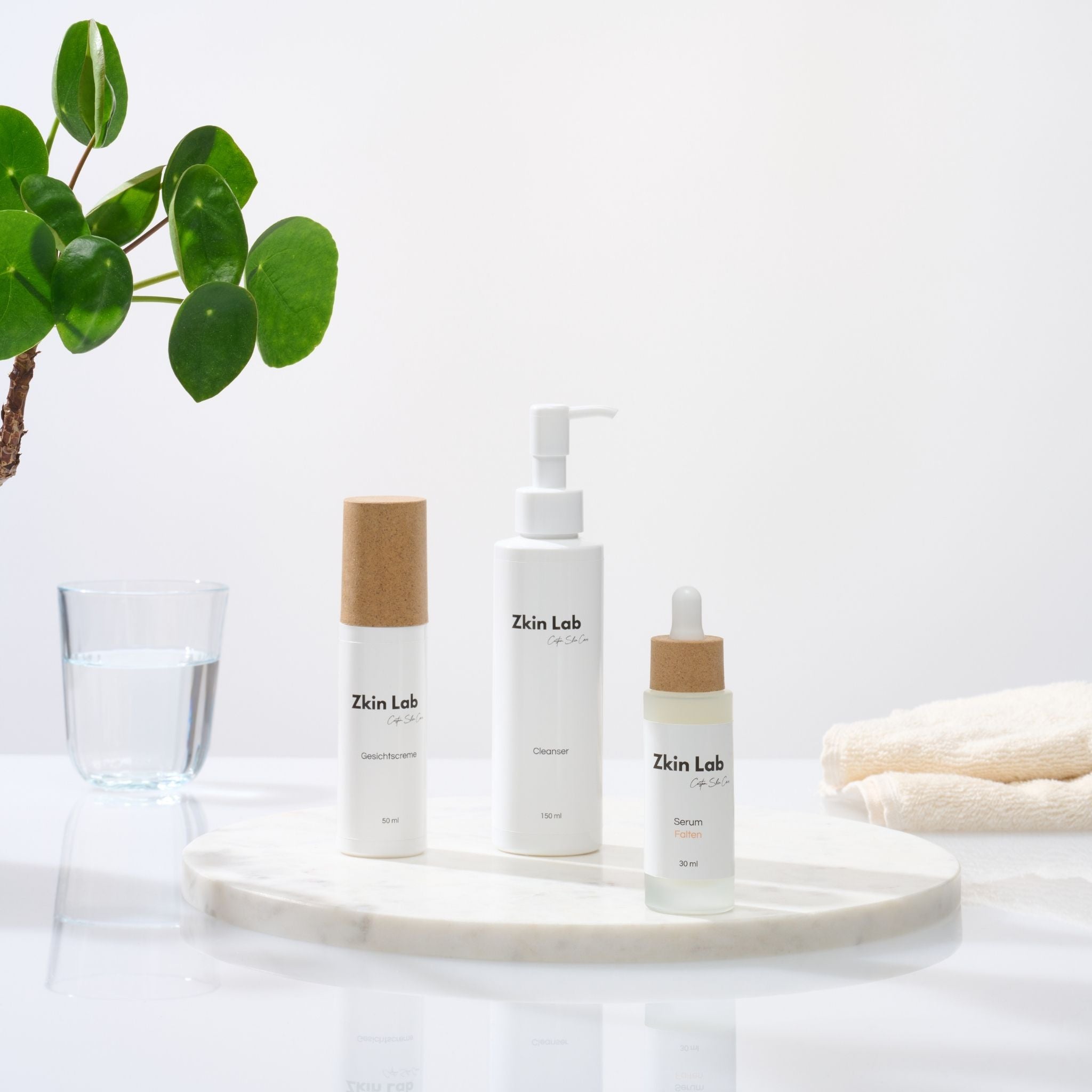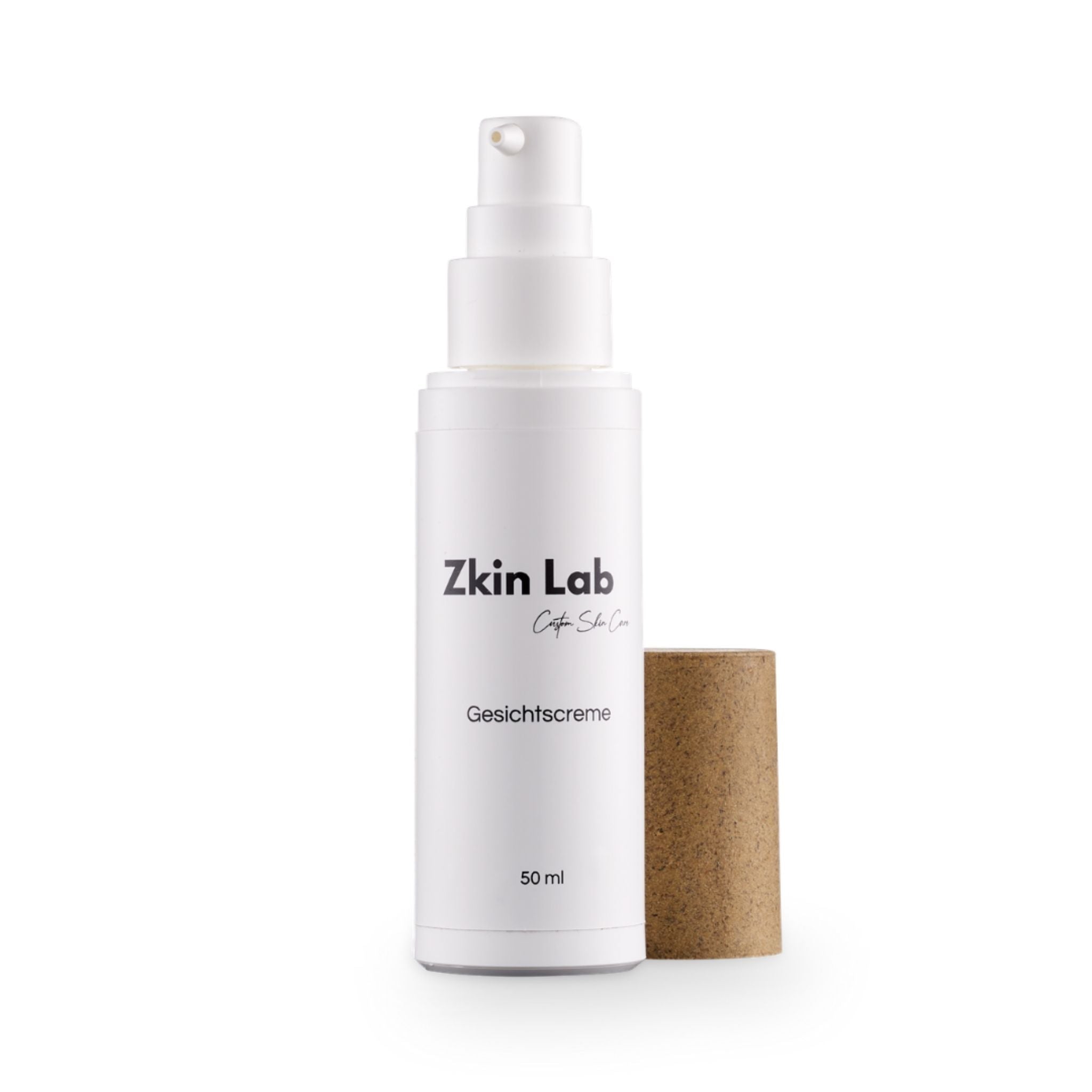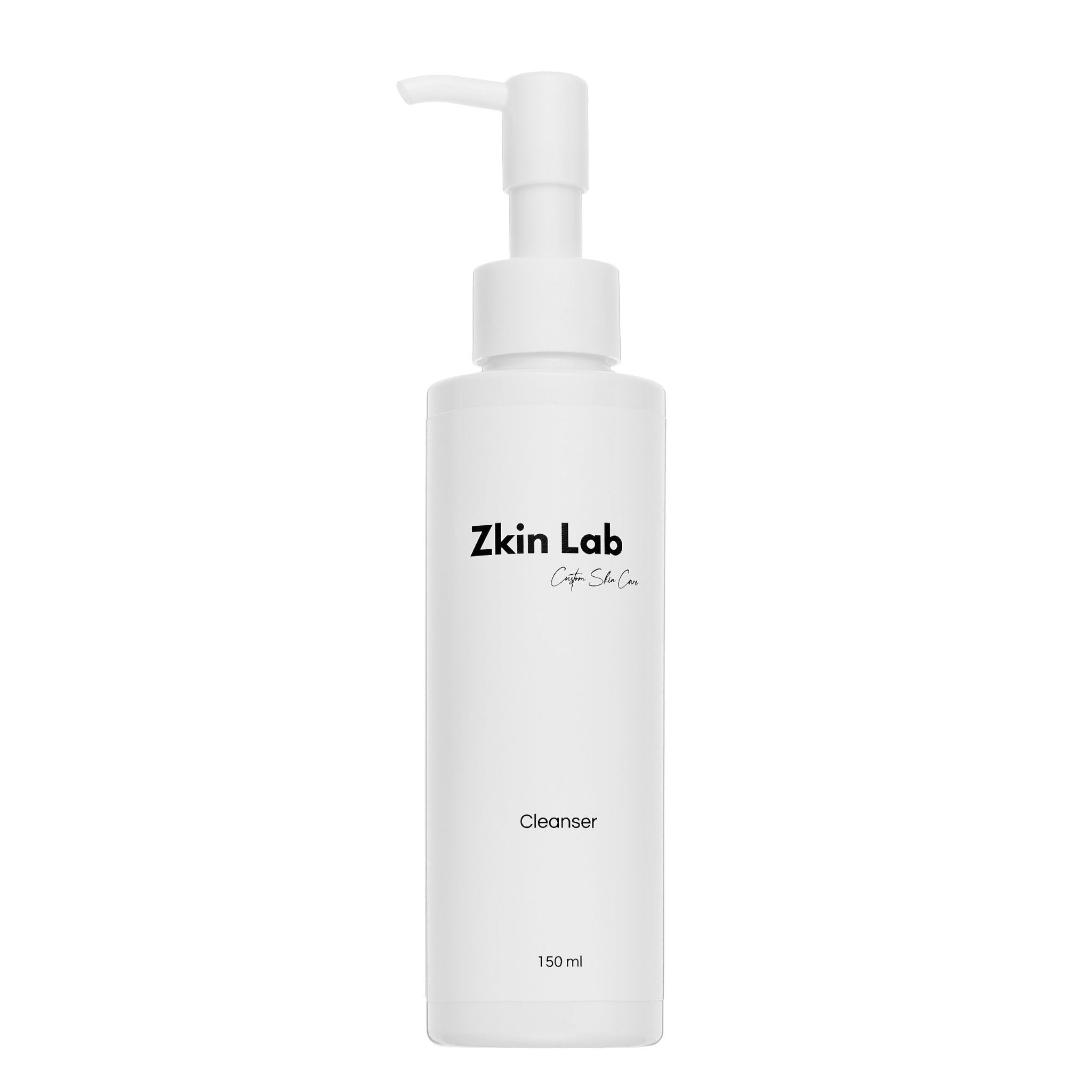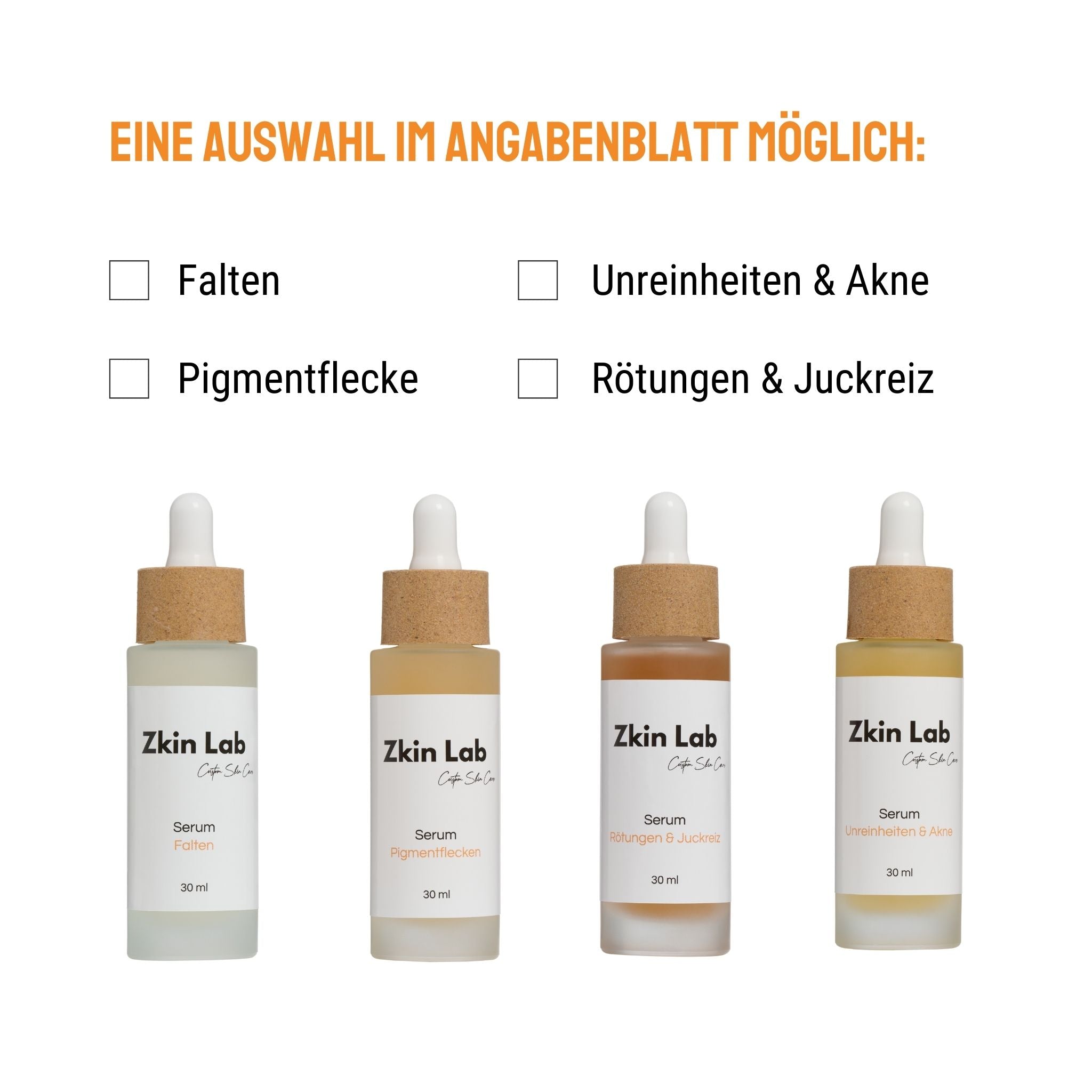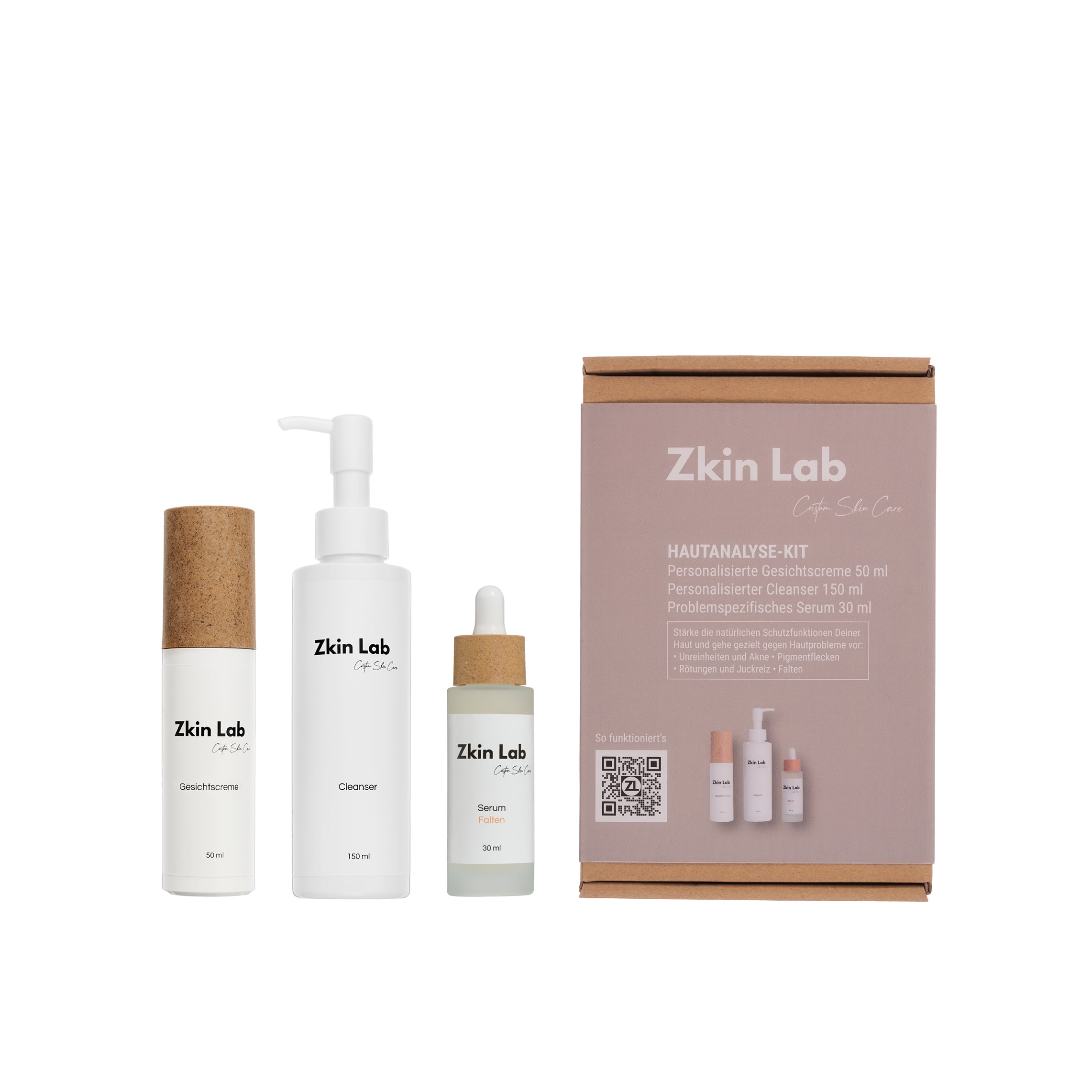 FAQs
Warum sollte ich meine Haut testen?

Jede Haut ist einzigartig und wird von externen Faktoren wie Wetter, Ernährung und Stress unterschiedlich beeinflusst. Es ist schwierig, den Zustand Deiner Haut richtig einzuschätzen, was wiederum die Auswahl der richtigen Produkte für eine effektive Hautpflege erschwert. Durch eine objektive Hautmessung von Zkin Lab kannst Du sicher sein, dass Deine individuellen Hautbedürfnisse korrekt identifiziert werden und Du die optimale Pflege erhältst. So findest Du direkt die passende Hautpflege und sparst Dir Zeit und Geld!
Was wird gemessen?

Wir messen den Fettgehalt (Lipide) und Feuchtigkeit Deiner Haut. So können wir feststellen was Deiner Haut braucht für eine ausgeglichene Hautbarriere.
Warum ist der Fett- und Feuchtigkeitsgehalt der Haut wichtig?

Eine intakte Hautbarriere hat eine optimale Menge an Lipiden und Feuchtigkeit und ist in der Lage, Fremdstoffe abzuwehren, ohne dass es zu Irritationen oder Entzündungen kommt. Wenn die Hautbarriere beschädigt oder gestört ist, kann dies zu einer Vielzahl von Hautproblemen führen, einschließlich Trockenheit, Schuppenbildung, Rötung, Reizung, Entzündungen und Infektionen. Zkin Lab stärkt gezielt das ideale Verhältnis von Lipiden und Feuchtigkeit und unterstützt damit Deine intakte Hautbarriere
Wie funktioniert die Personalisierung bei der Gesichtscreme?

Ein Algorithmus vergleicht Deine individuellen Hautwerte mit optimalen Referenzwerten und berechnet die ideale Zusammensetzung der Inhaltsstoffe für Deine persönliche Formel. Dieses Verfahren basiert auf mehrjähriger Forschung und umfassenden Datenanalysen. Das Ergebnis ist eine maßgeschneiderte Creme, die Deine Haut in ihr natürliches biologisches Gleichgewicht bringt.
Tolle Pflege
Ich bin mit dieser individuellwn Pflege sehr zufrieden. Ich nutze sie gerne und es sind nicht viele Schritte was für mich wichtig ist.
Tolle Ergebnisse
Durch die tägliche Nutzung von Cleanser, Creme und Serum hat sich meine Haut innerhalb weniger Wochen sichtbar verbessert. Unreinheiten und Pickel sind fast vollständig verschwunden.
Die Creme zieht schnell ein und ist sehr ergiebig.
Ich bin sehr zufrieden und werde Zkinlab weiterhin nutzen und empfehlen.
Für meine Haut nur Zkin Lab!
Ich bin seit langem Nutzer aller Hautpflegeprodukte von Zkin Lab. Ich kann sie nur wärmstens empfehlen!
Super!!
Die Creme zieht leicht ein und die Haut fühlt sich praller und glatter an. Ich bin wirklich sehr zufrieden.
Sehr schöne Produkte
Angenehmer Geruch und Konsistenz!