Custom Skincare
Individual formulations based on precise skin measurement for healthy, radiant skin
Shop now!
How it works
1. Use the analysis strips from the comfort of your home

2. Send the kit to our lab

3. Received your custom skin care by mail
Let customers speak for us
Great results
By using the cleanser, cream and serum daily, my skin has visibly improved within a few weeks. Blemishes and pimples have almost completely disappeared.
The cream is quickly absorbed and is very effective.
I am very satisfied and will continue to use and recommend Zkinlab.
viola
Personalized face cream, cleanser & serum
Fast service and trustworthy product
I was skeptical. I have struggled with redness and inflammation on my forehead for years. Dermatologically treated (Soolantra is the only prescription cream that slightly relieves the inflammation). That's why I've only used gel-based formulations from a brand manufacturer (dramatically different hydration) and anti-redness wash lotions for years. No active substances (anti-wrinkle or caffeine) in the creams, as these irritate. The result of the zkin-lab skin test showed: "Skin extremely dry" and "extremely low fat content". So it's been improperly cared for for years.
Now about the product from zkin-lab: I am very satisfied. No skin irritation (which I expected due to a richer formulation). The oil-based cleanser (which I was afraid of because of the oil consistency) works great. No worsening of inflammation. No significant improvement either (I've only been using the product for two weeks). But I feel like the skin is stabilizing. I'll know more in a few weeks. ;-) I'll try the anti-inflammatory serum as a supplement.
Two tips for zkin-lab: it would be great if you offered a re-test after 6 months. This creates even more trust in your product. A product with sun protection in the day cream would also be great.
Stefan
Personalized face cream & cleanser
Great idea - great cream
Skin analysis is easy and quick to carry out, cream consistency (thick or thin) can be selected. The finished cream will be delivered to you promptly in an attractive tube with a pump dispenser. The scent is absolutely subtle and pleasant, I can't understand the negative reviews about the scent. I'm curious about the long-term effects as I've only been using the cream for 1.5 months. But I will definitely reorder them.
Angelika Vormoor
Personalized face cream 50ml
Why should I test my skin?

Every skin is unique and is affected differently by external factors such as weather, diet and stress. It is difficult to accurately assess the condition of your skin, which in turn makes it difficult to choose the right products for effective skin care. With objective skin measurement from Zkin Lab, you can be sure that your individual skin needs are correctly identified and that you receive the optimal care. This way you can find the right skin care straight away and save yourself time and money!
What is being measured?

We measure the fat content (lipids) and moisture of your skin. This way we can determine what your skin needs for a balanced skin barrier.
Why is the oil and moisture content of the skin important?

An intact skin barrier has an optimal amount of lipids and moisture and is able to repel foreign substances without causing irritation or inflammation. When the skin barrier is damaged or disrupted, it can lead to a variety of skin problems including dryness, flaking, redness, irritation, inflammation and infection.

Zkin Lab specifically strengthens the ideal ratio of lipids and moisture and thus supports your intact skin barrier.
How does personalisation work?

An algorithm compares your individual skin values ​​with optimal reference values ​​and calculates the ideal composition of ingredients for your personal formula. This process is based on several years of research and comprehensive data analyzes by experts at the Fraunhofer Institute. The result is a tailor-made cream that brings your skin into its natural biological balance.
Combat skin problems
Level 1: Cream and Cleanser

An intact skin barrier is the basis for healthy skin. Our Zkin Lab Cleanser and Cream offer you the ideal combination to bring your skin into its natural balance. In this state, your skin can regenerate and protect itself. An intact skin barrier helps to correct and prevent skin problems.

Go to the skin analysis kit

Level 2: Problem-Specific Serum

Our Zkin Lab serums specifically attack the causes of skin problems and build on the intact skin barrier. We offer serums for acne & blemishes , pigment spots , wrinkles and redness & itching .

To the serums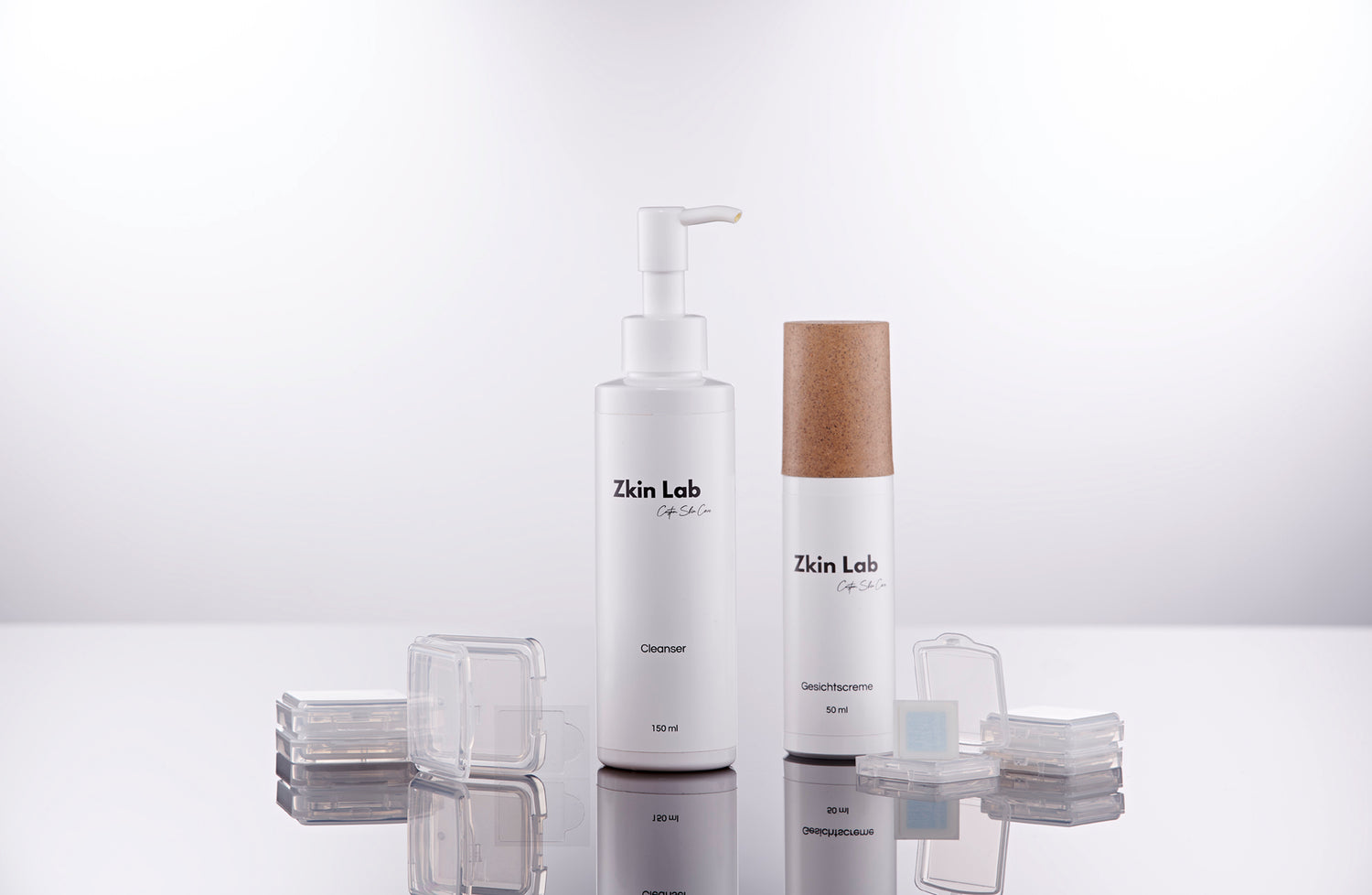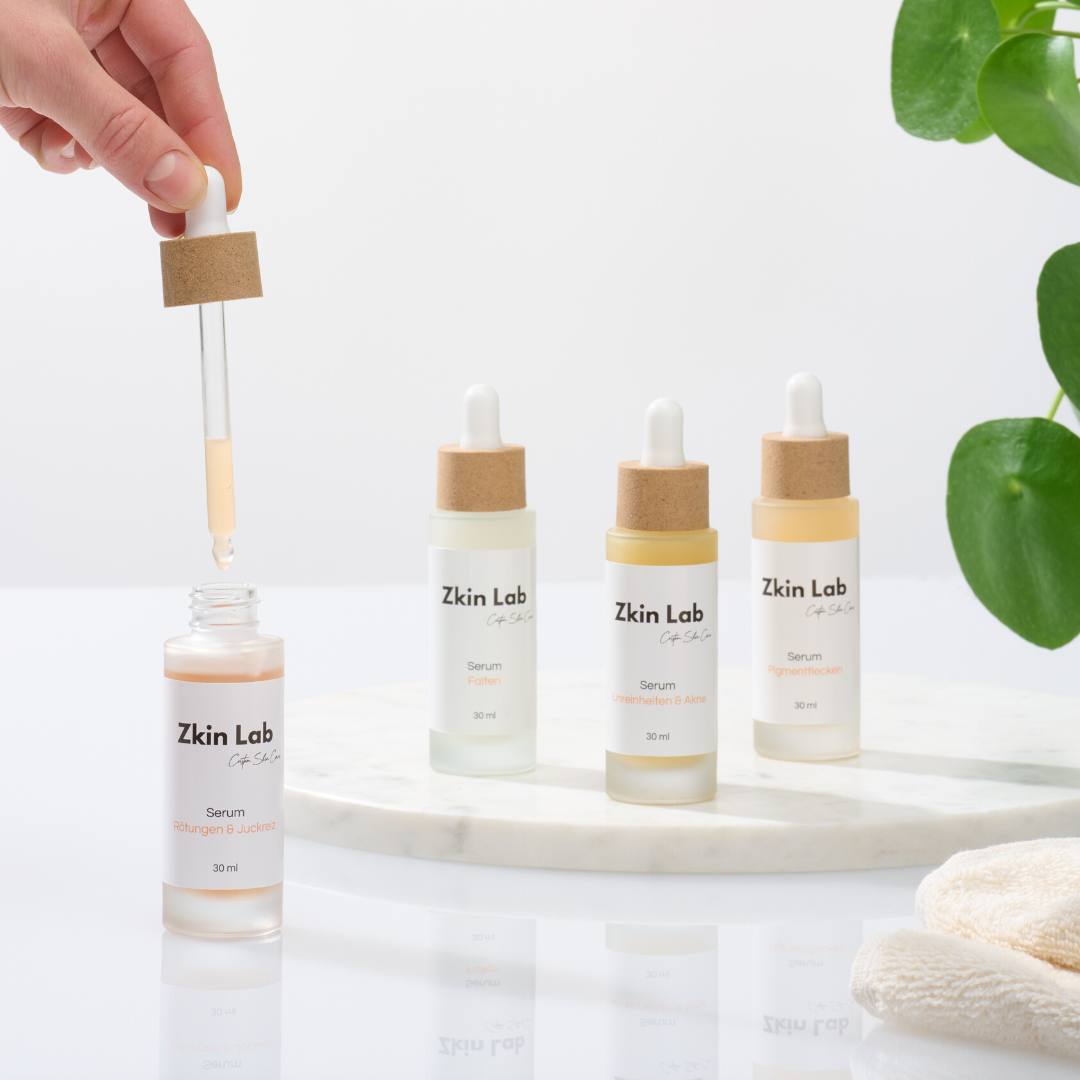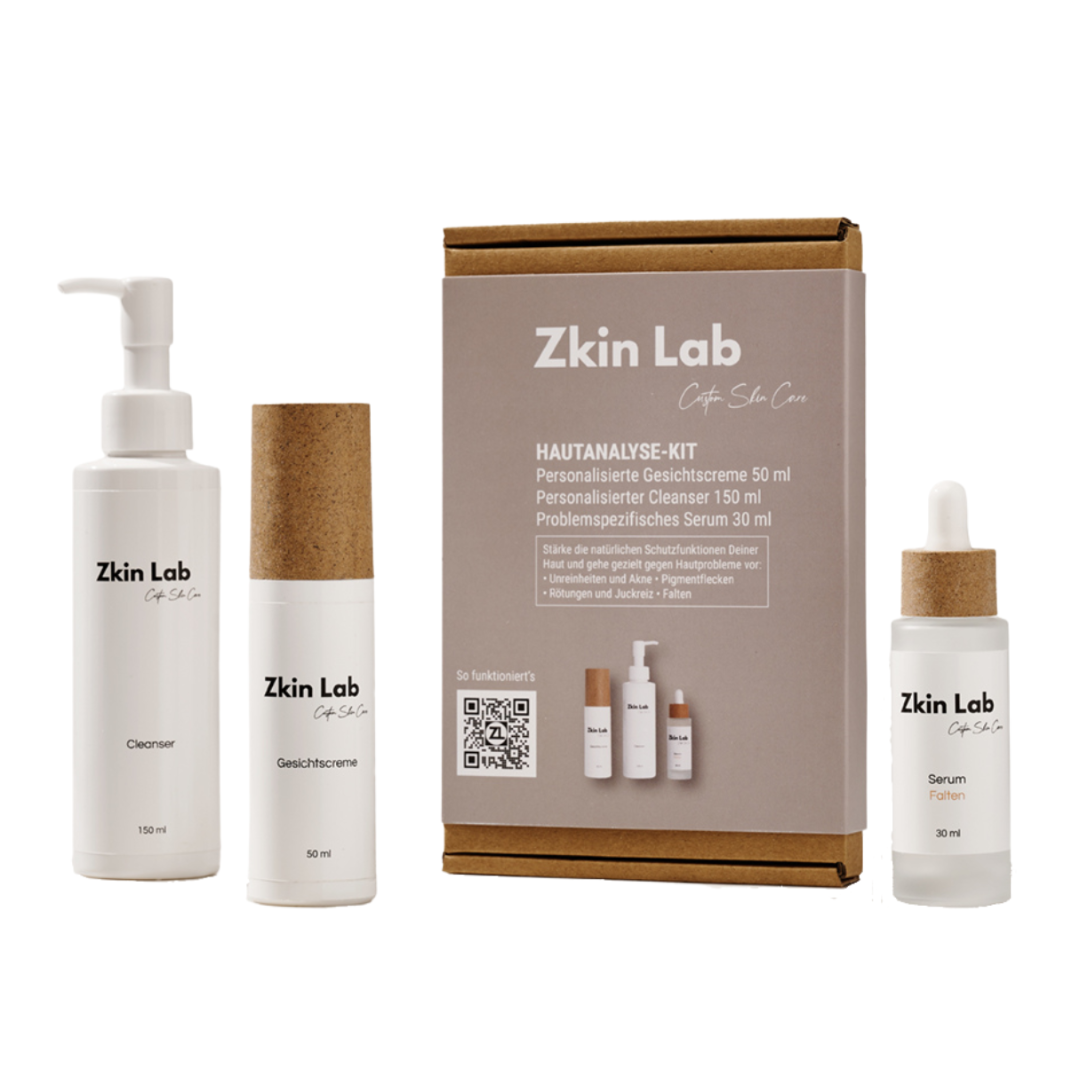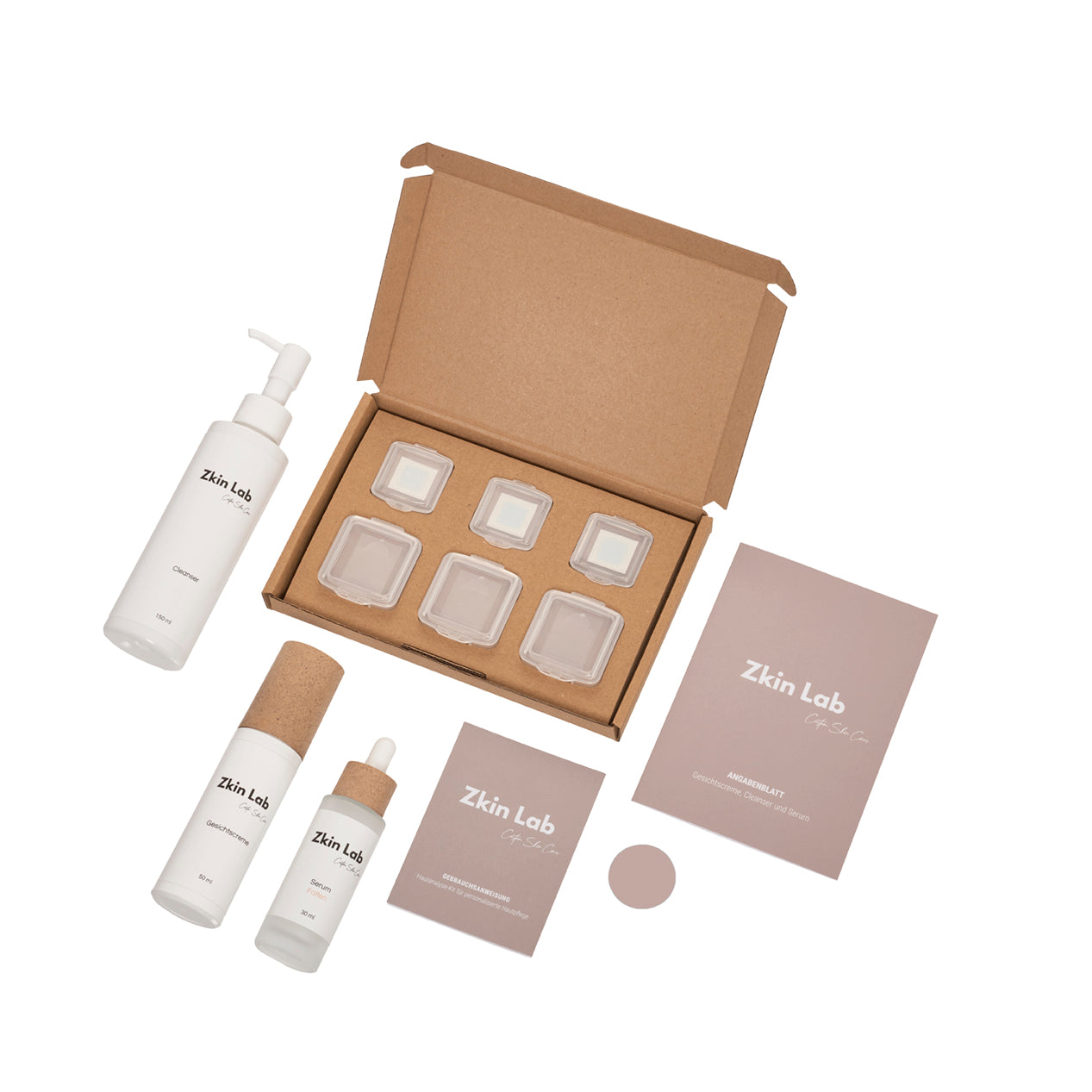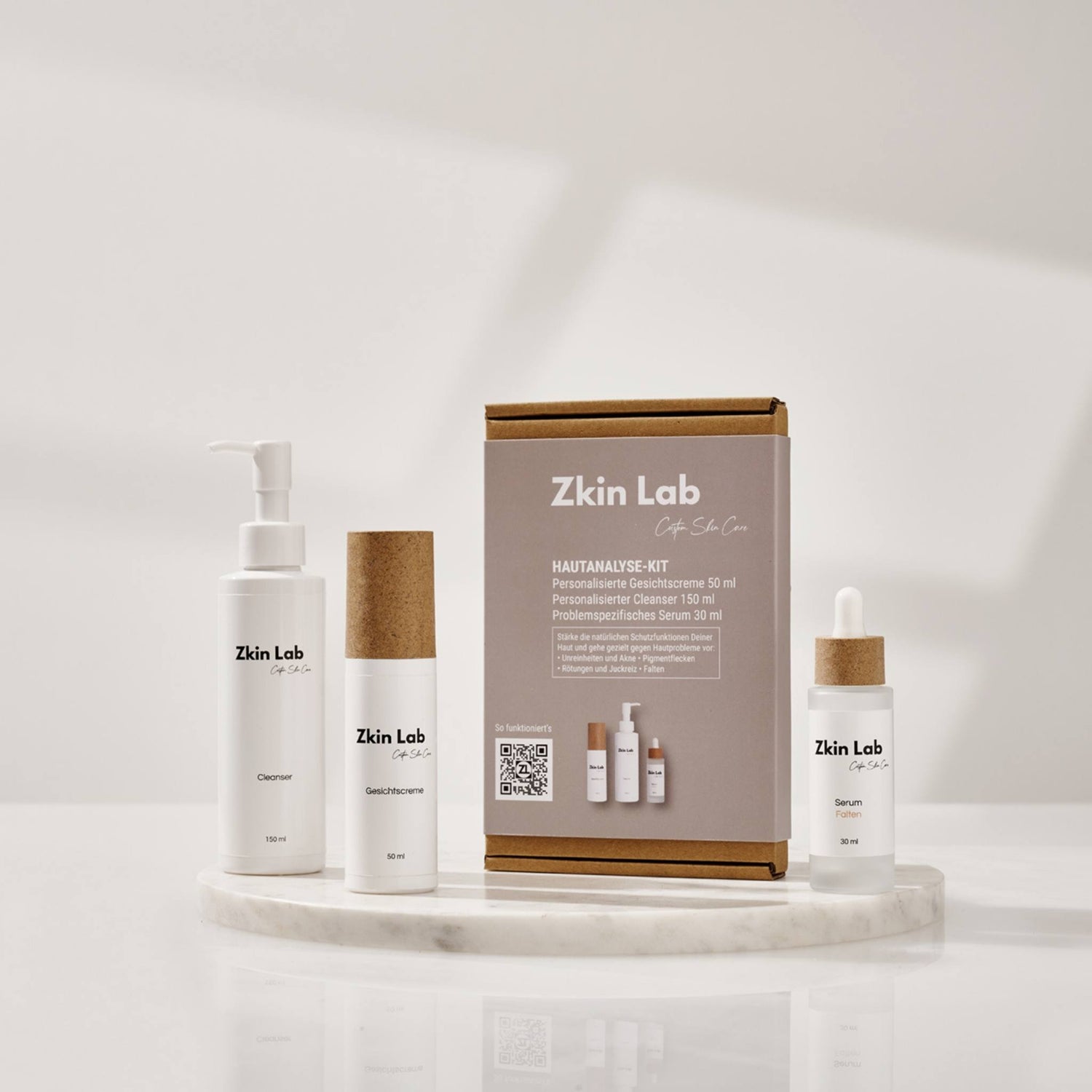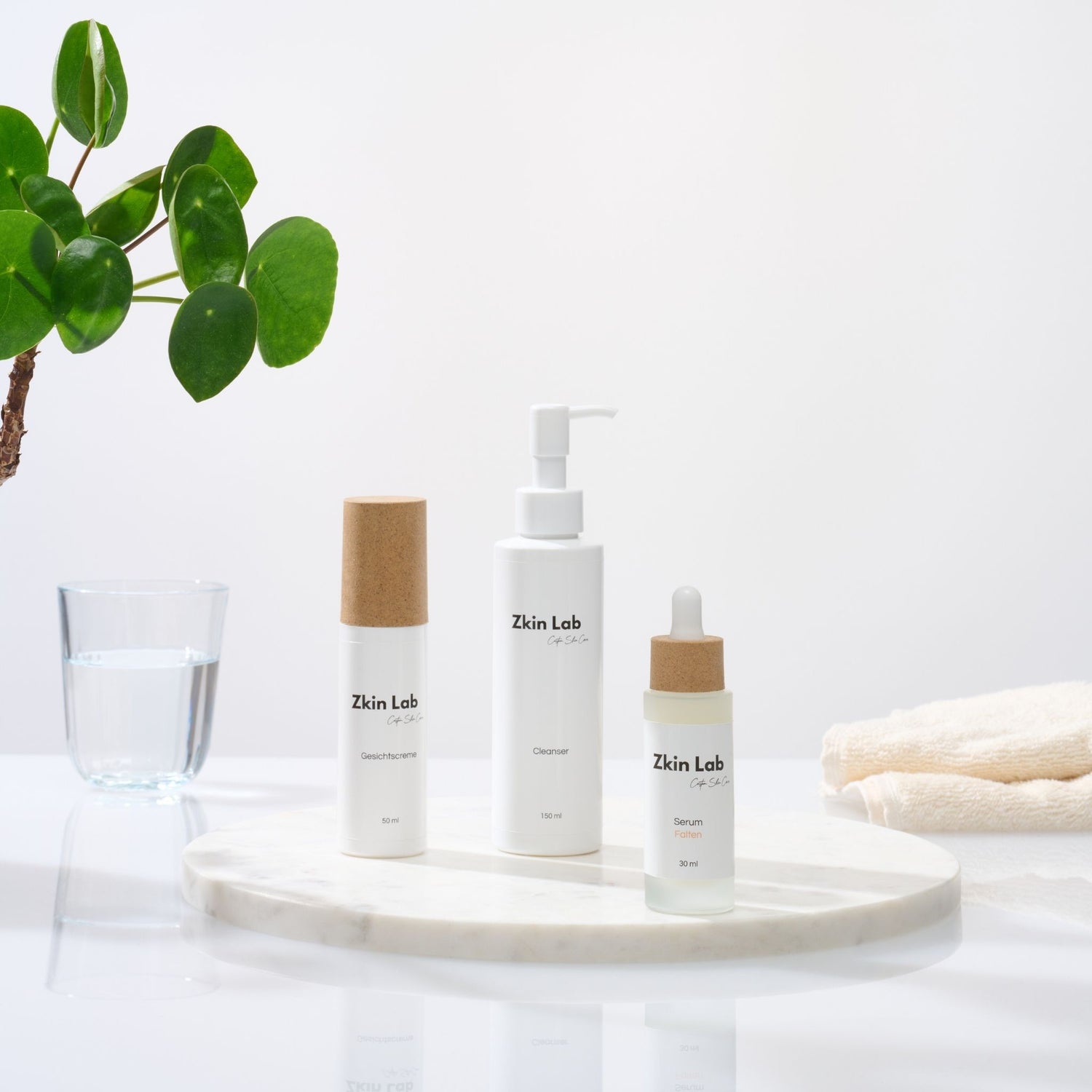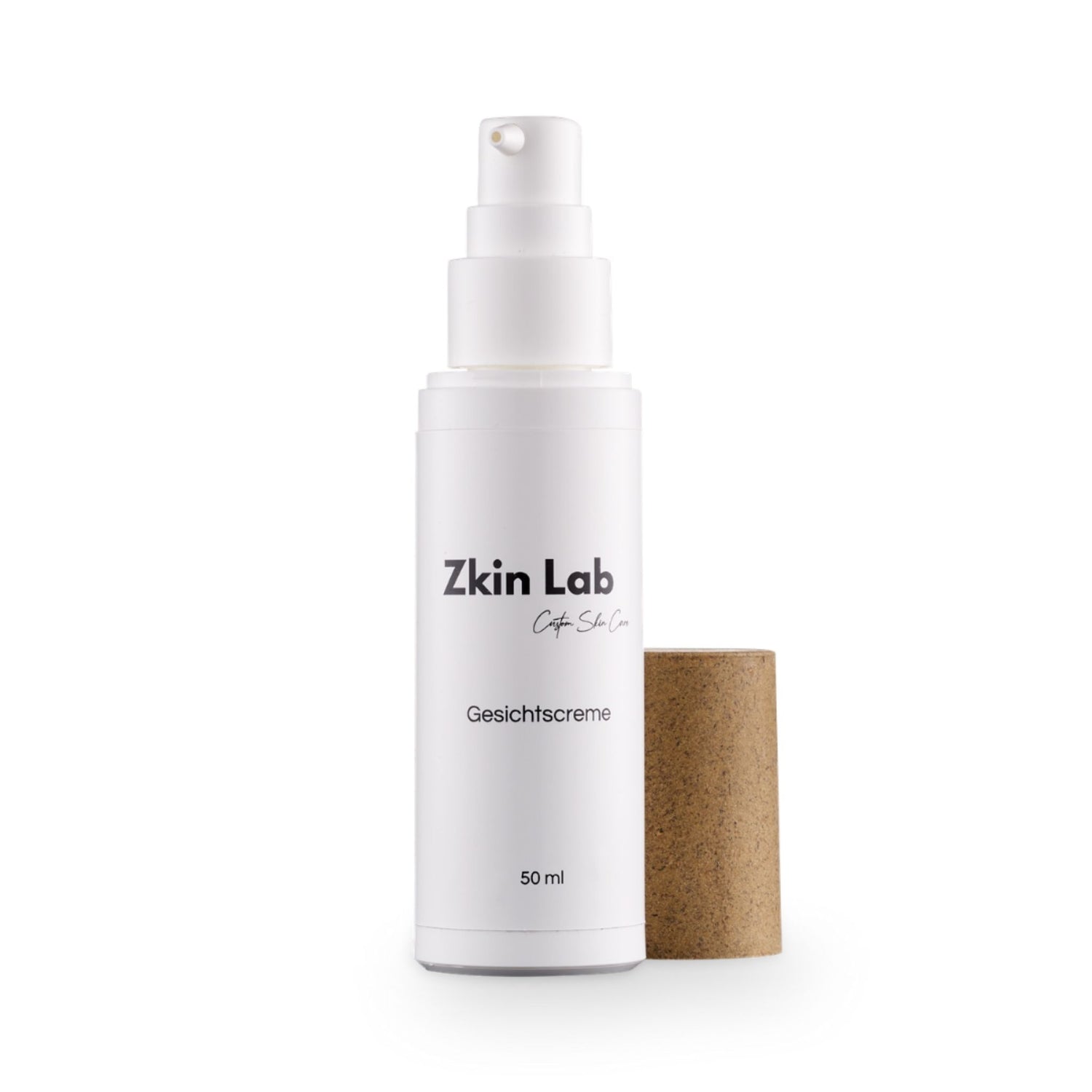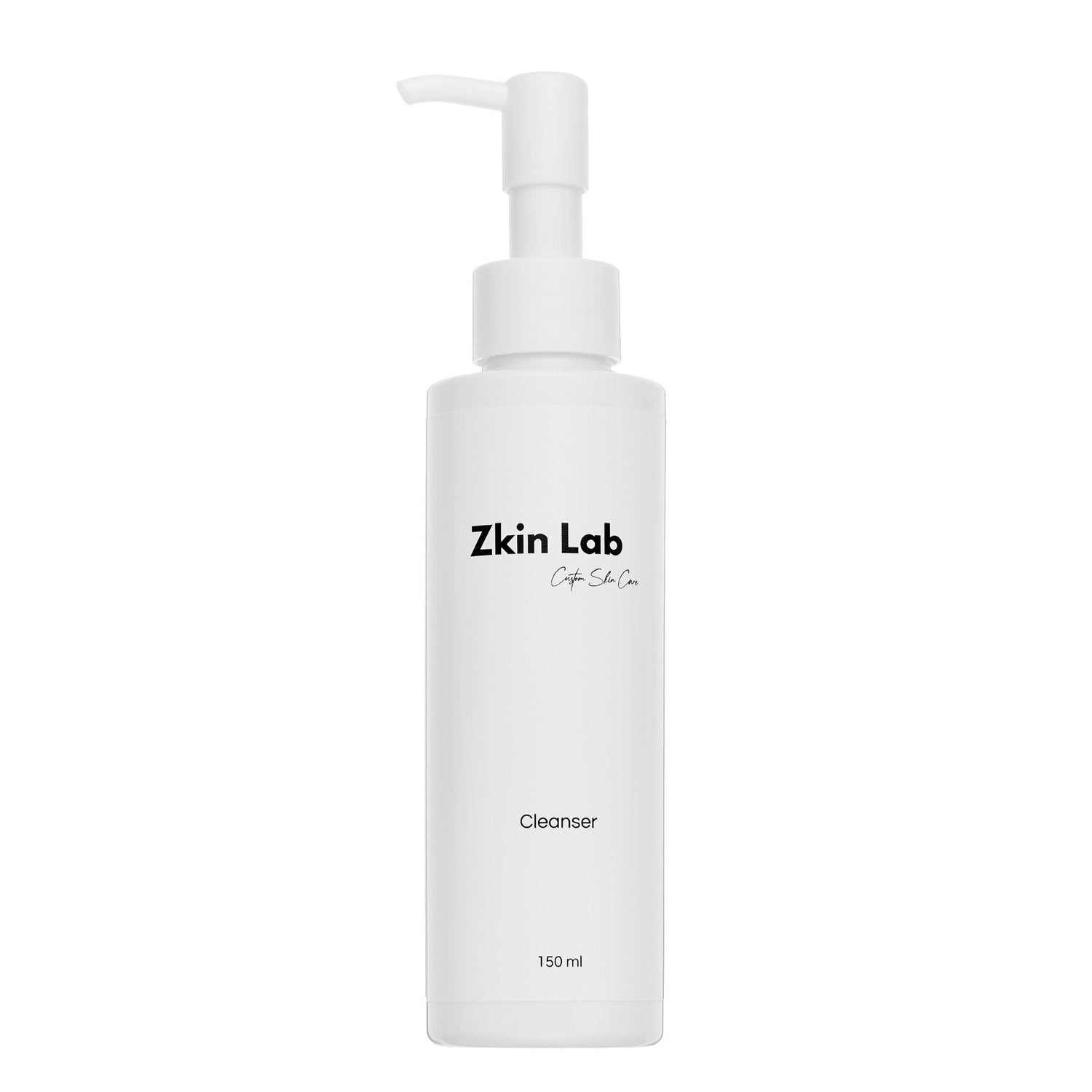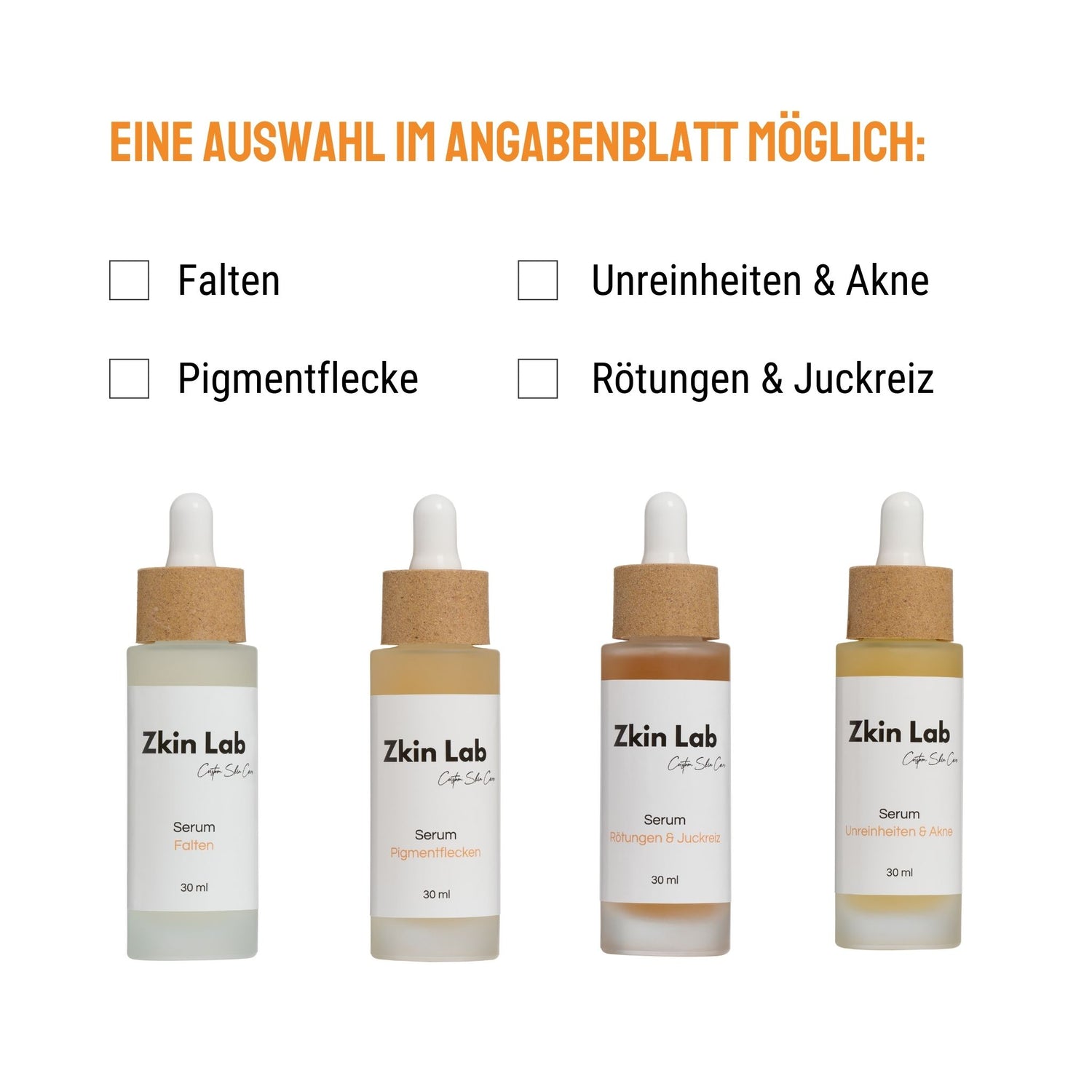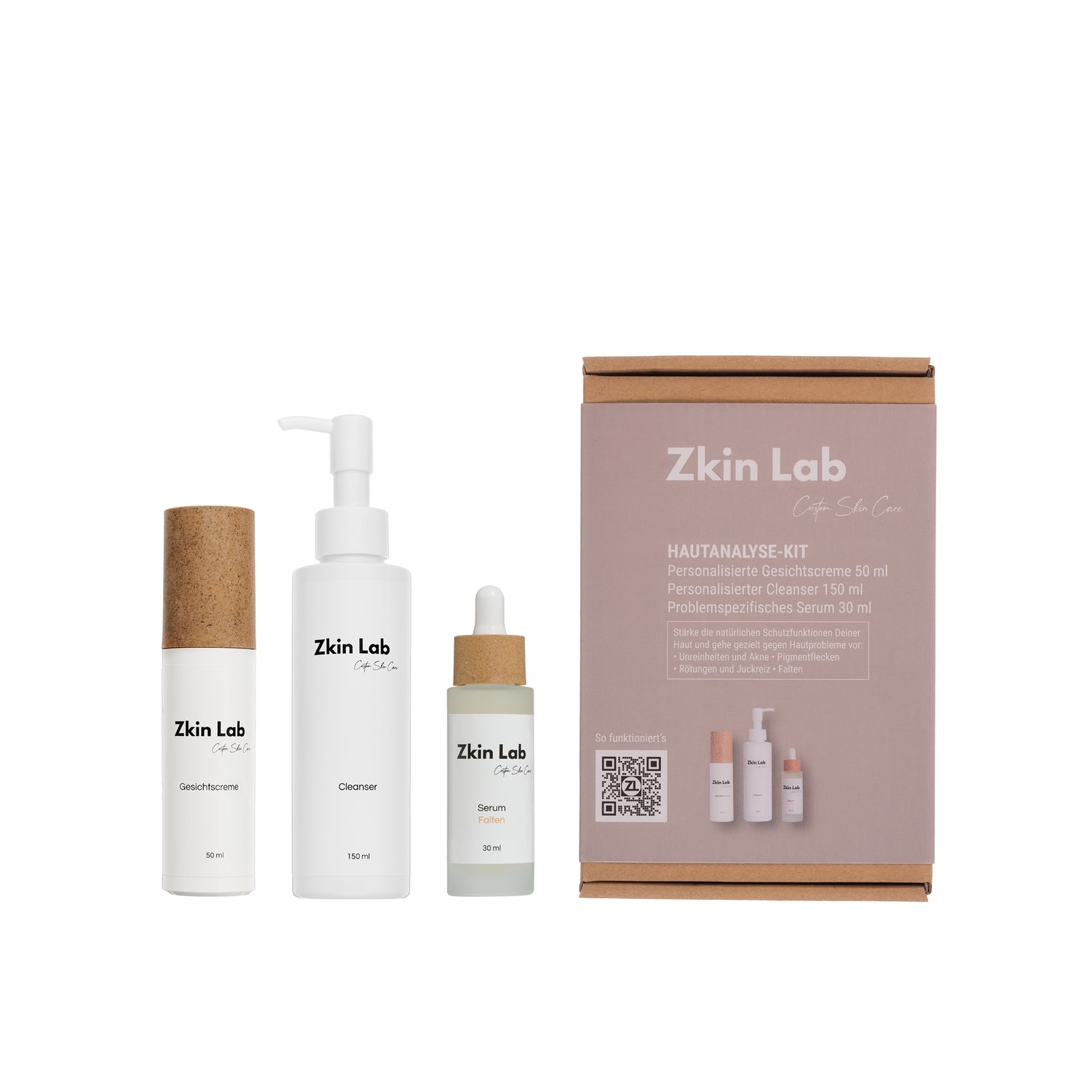 Custom Moisturiser, Cleanser & Serum
Regular price

Sale price

129,00€
Share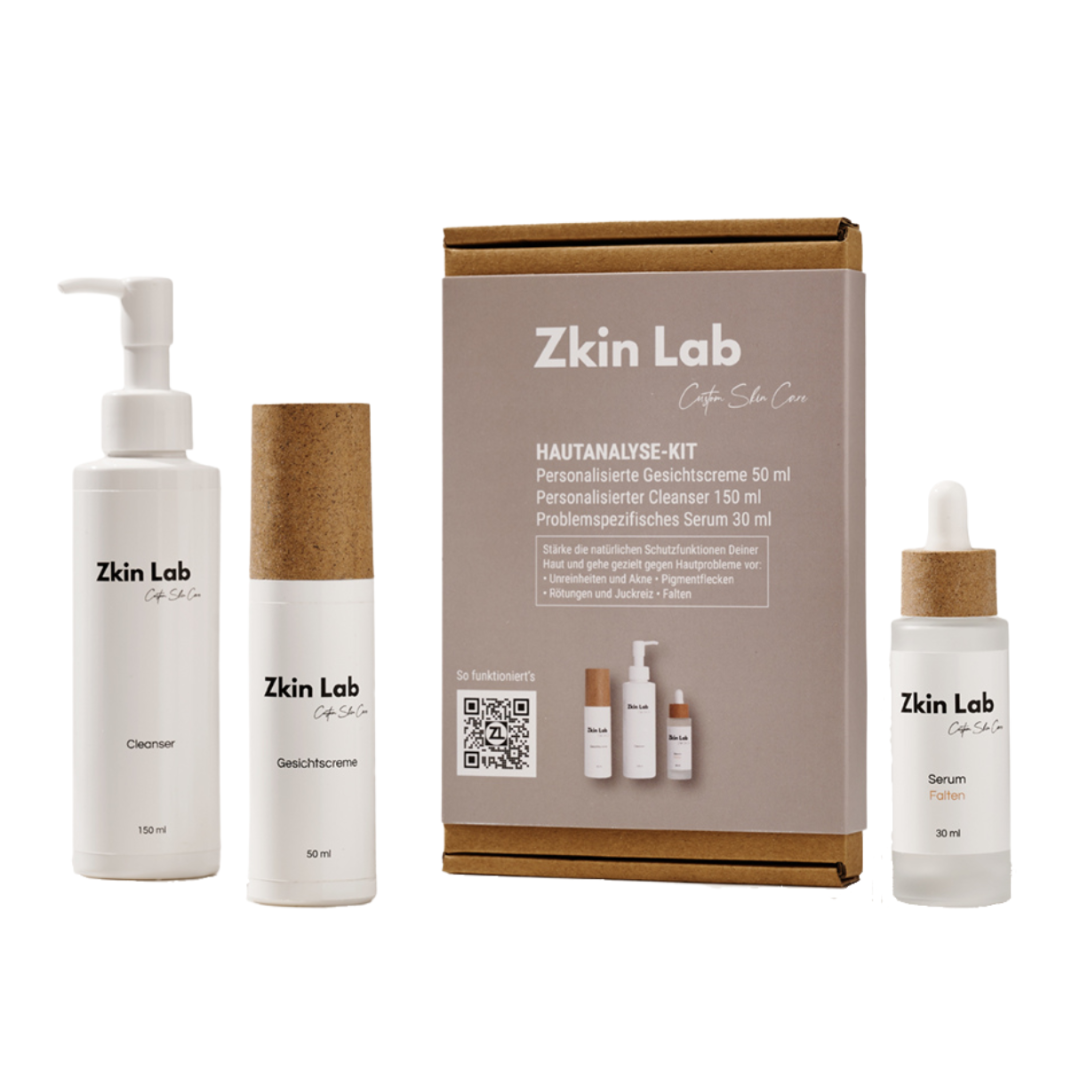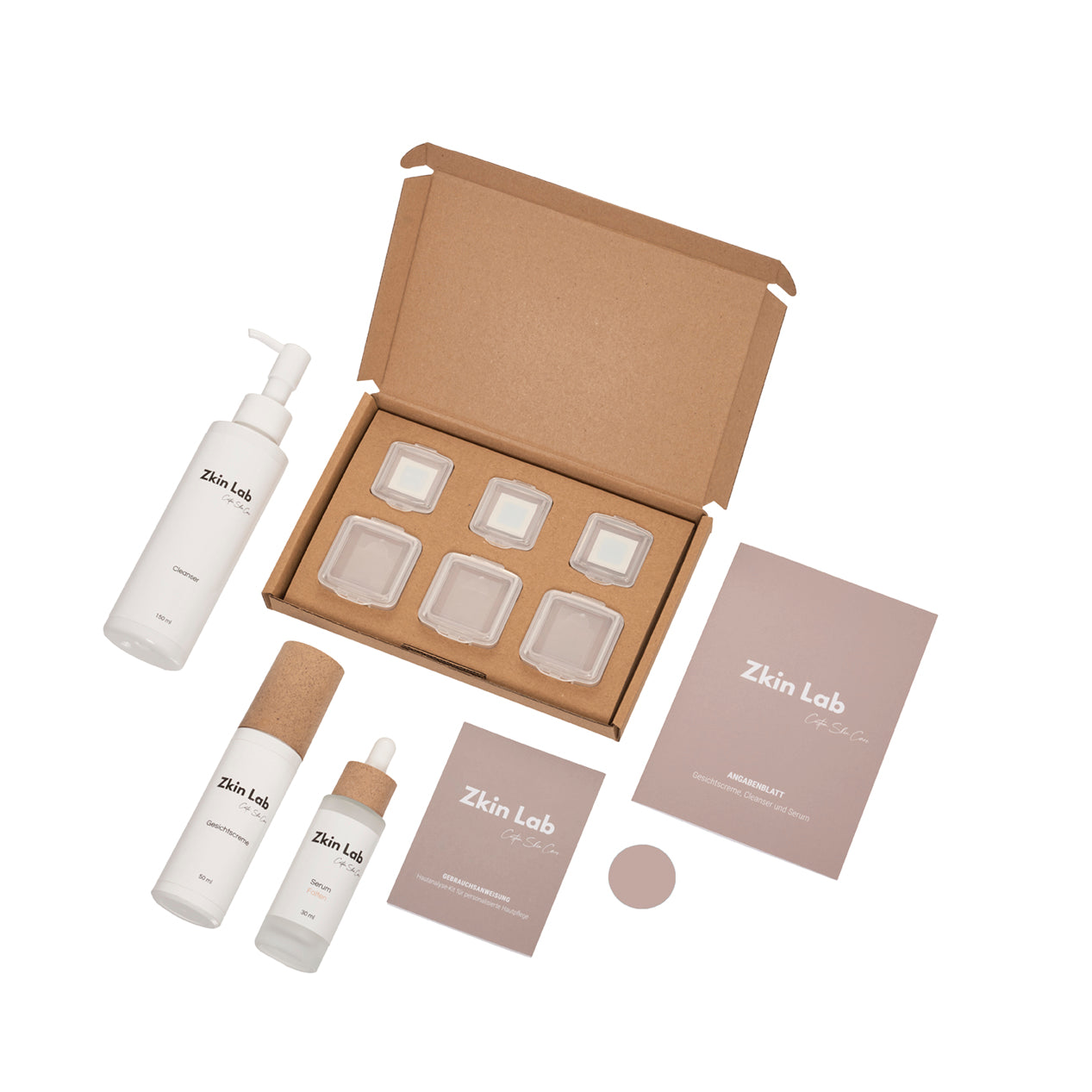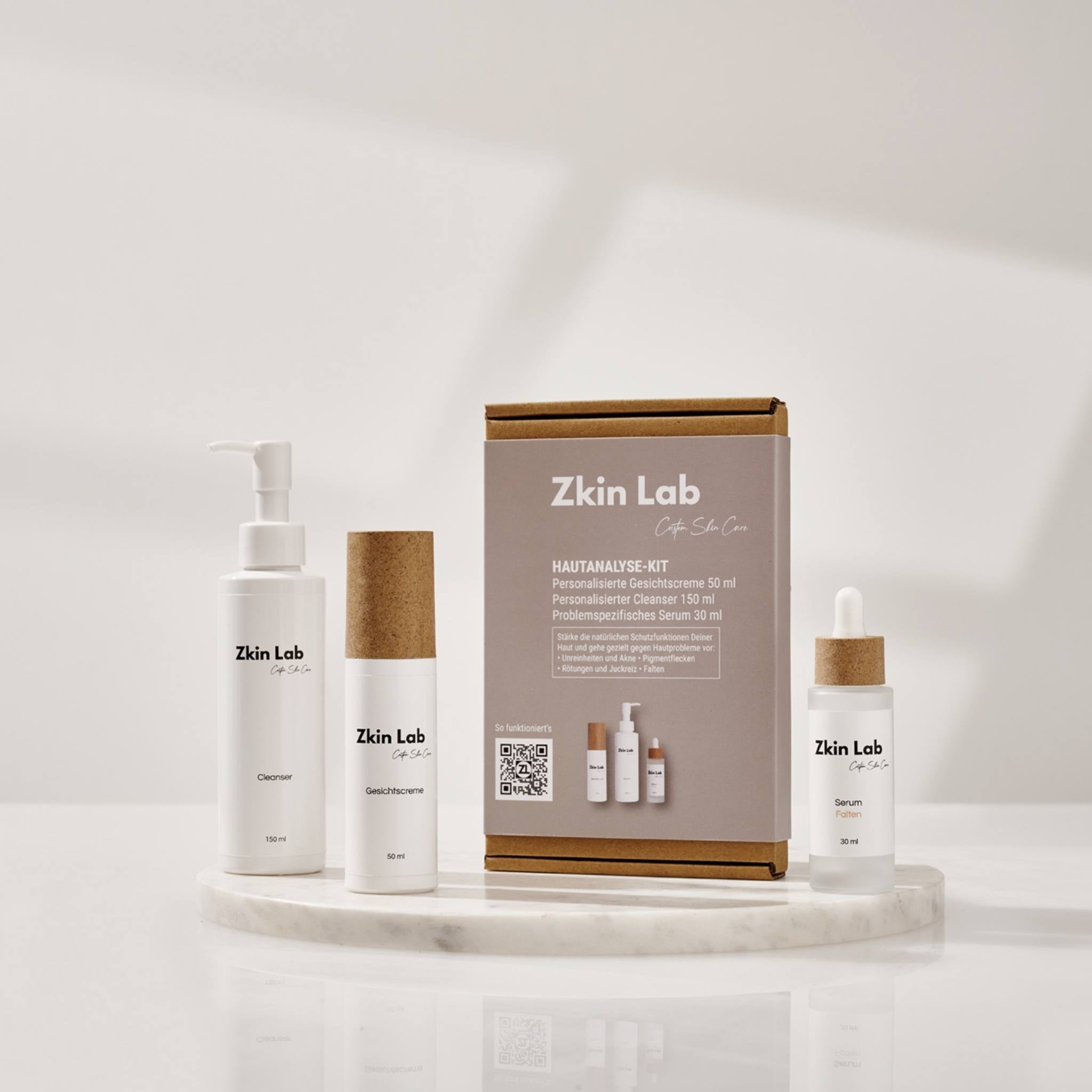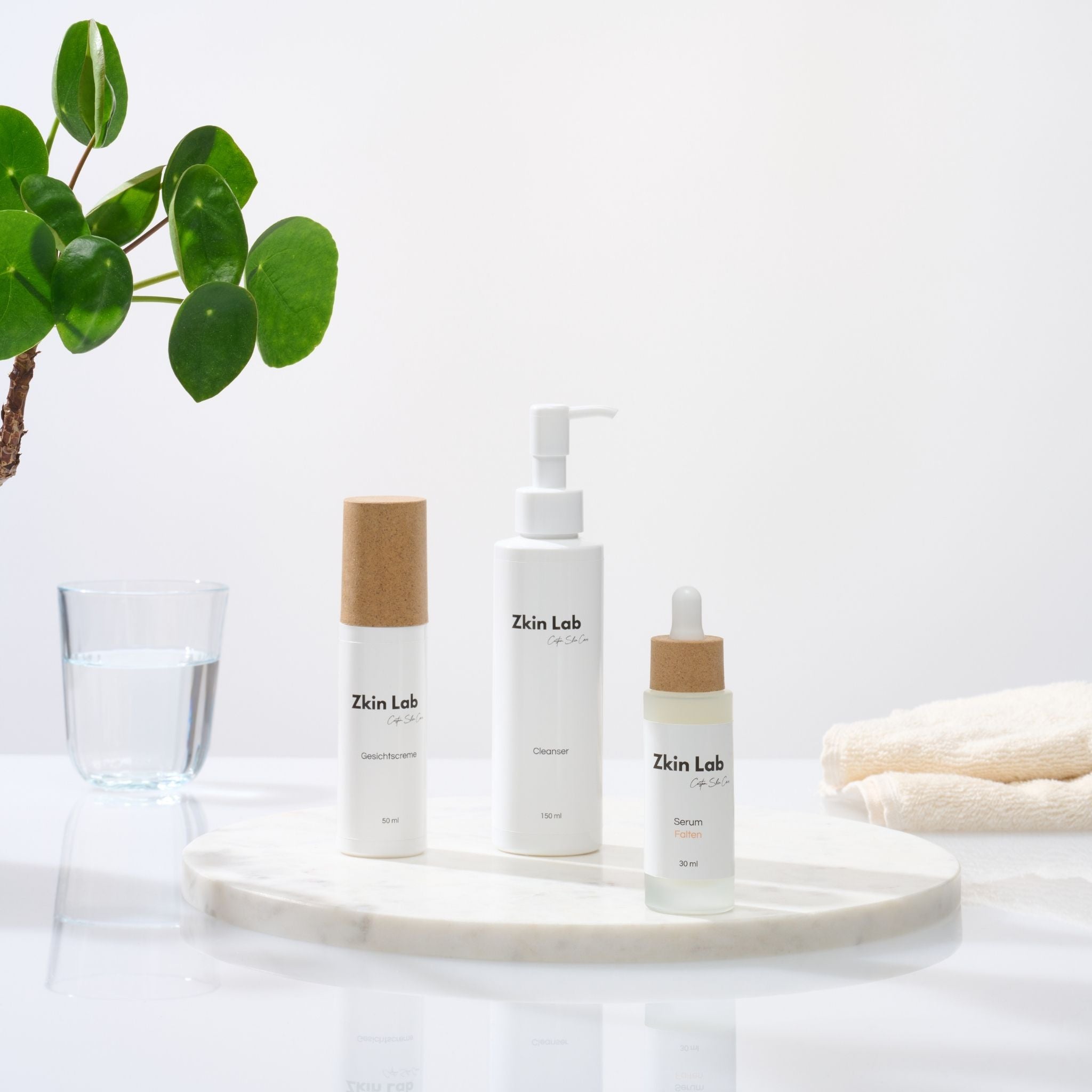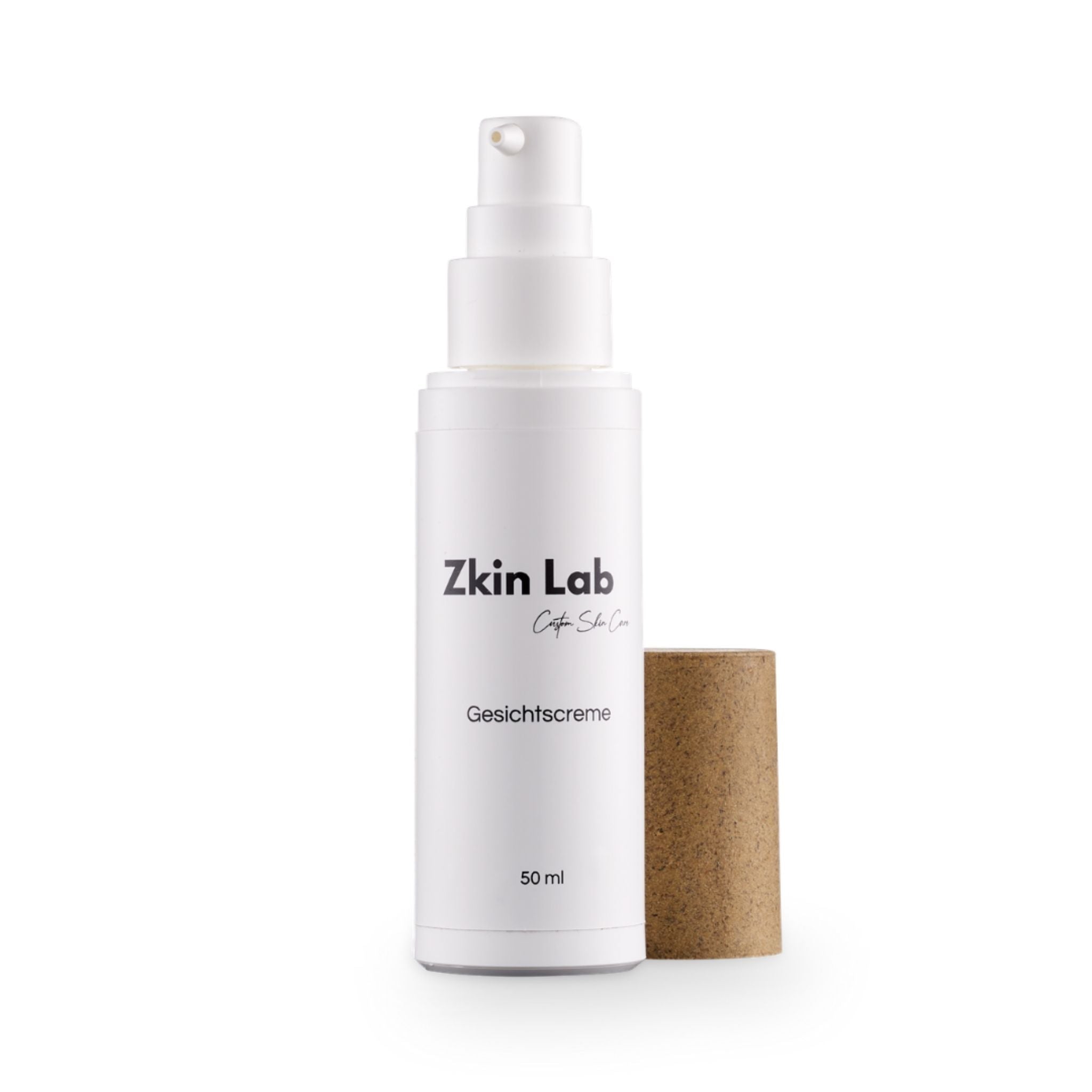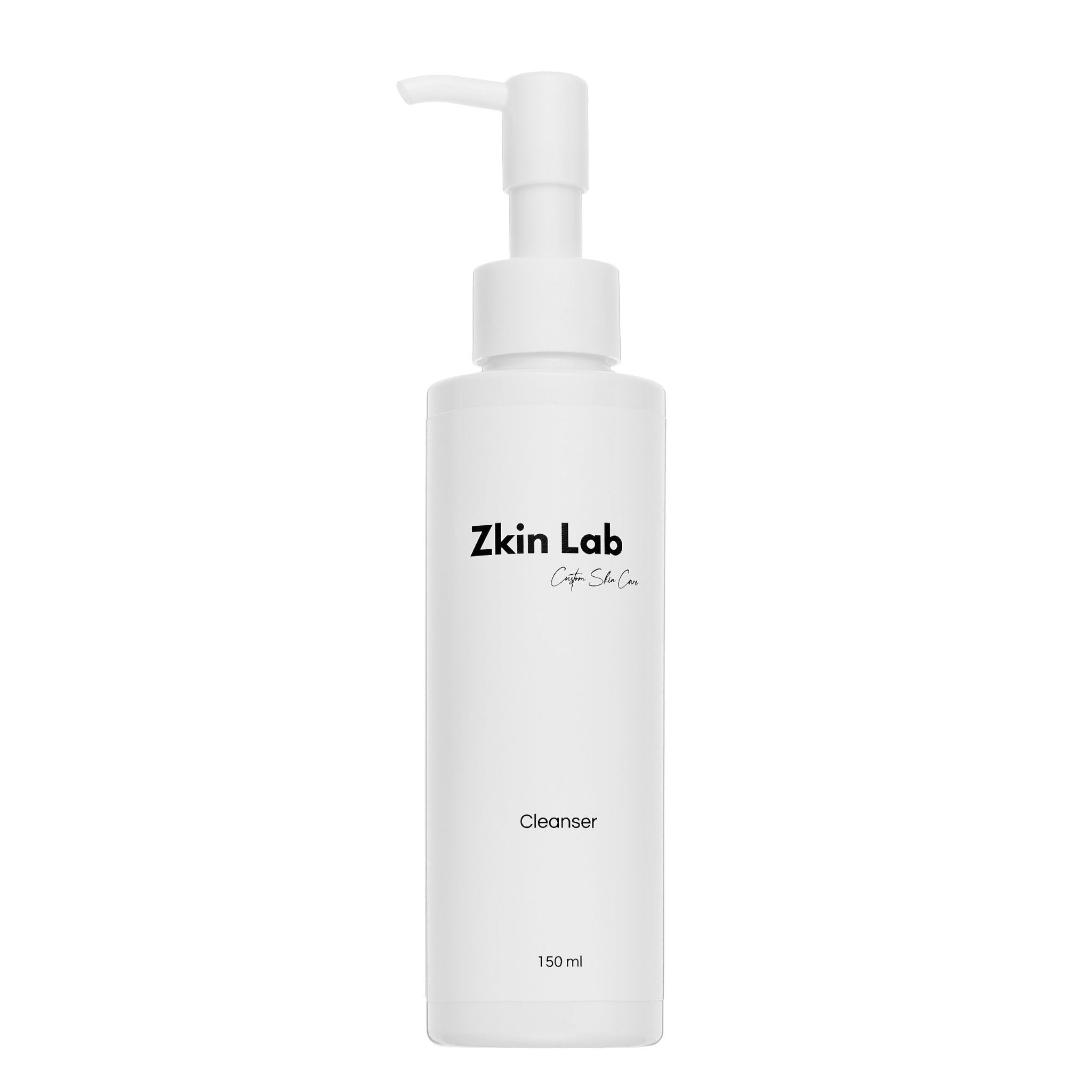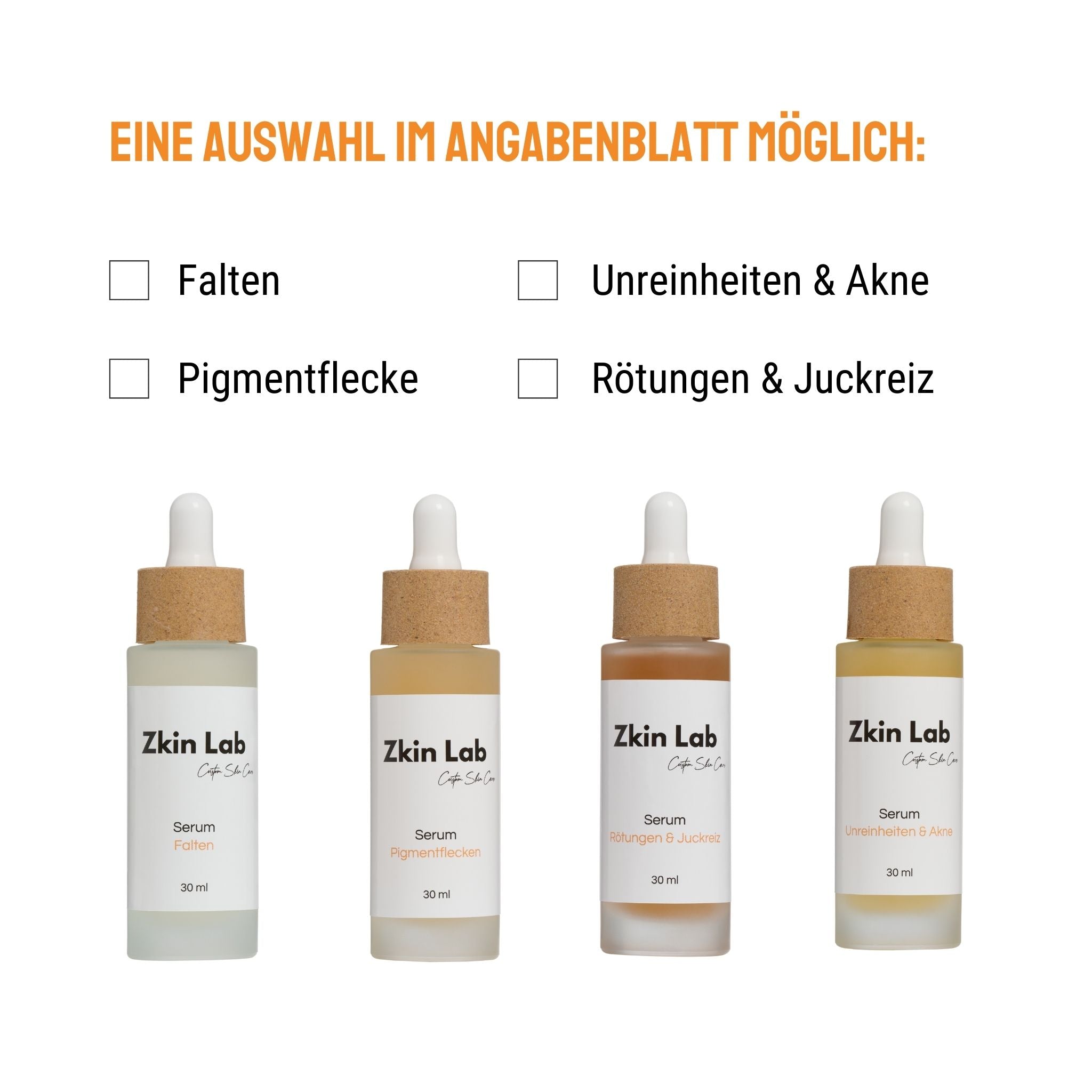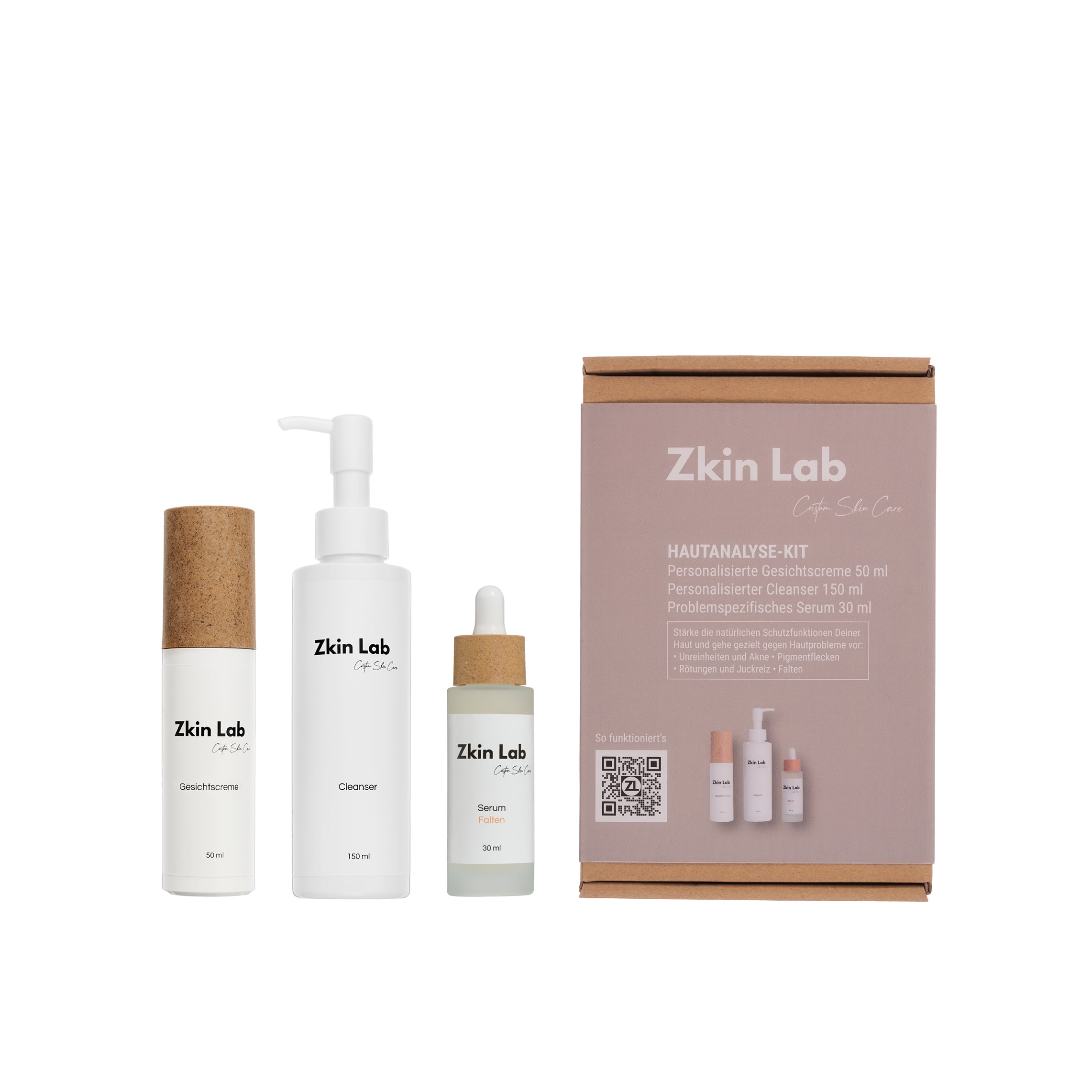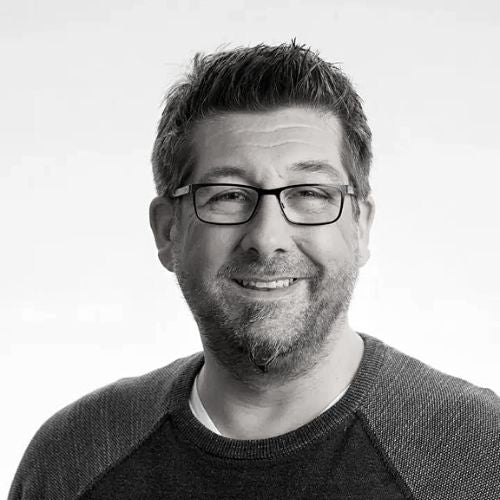 "Zkin Lab's personalised products provide effective skin care that strengthens the skin's natural protective functions. The cream offers an ideal basis for solving and preventing any skin problems.
-Dr. Lars Rüther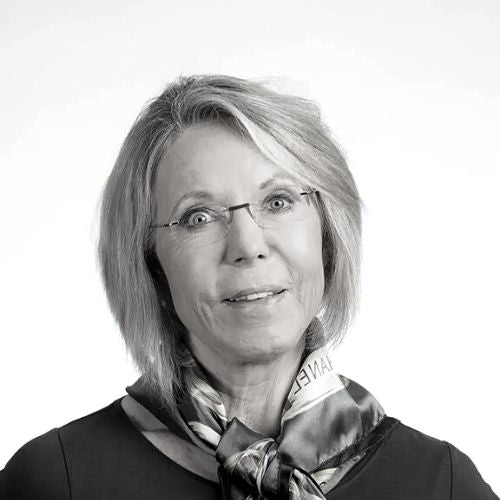 "Zkin Lab's objective skin analysis and personalisation process makes it possible to identify individual skin needs and tailor the cream to target imbalances for effective skin care."
-Dr. Dr. Ilsabe Bunger